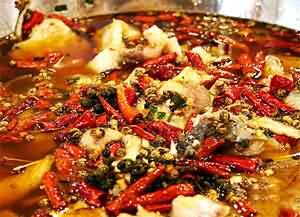 Sichuan cuisine is one of the major culinary schools in China and combines the styles from Chengdu and Chongqing. It is known for its deep and rich flavors with each dish having its own unique taste, even among the thousands of dishes developed. Seasonings frequently include chili, pepper, Chinese prickly ash, fermented soy beans, shallots, ginger, garlic, cooking vinegar, and sugar. The unique Sichuan pepper is also a frequent player, and a majority of the typical dishes are spicy. Through the creative use of combinations, chefs are able to make countless sauces. These sauces include fish flavors, litchi, spicy, hot, and more.
Some well known favorite dishes are fish-flavored shredded pork, kung pao chicken (spicy chicken fried with peanuts), yanjianrou (double fried pork), ma po bean curd (stir-fried bean curd in hot sauce), hog bowels hot pot, dry fried shredded beef, husband and wife's pork lung slices, lantern shadow beef, dandan noodles (hot and spicy noodles), tangyuan (dumplings made of glutinous rice flour served in soup), and longchaoshou (dumpling soup or wonton known in north China).
In the variation of snacks and desserts, Sichuan cuisine has many choices. Some well known favorites are sweet glutinous rice cakes, rice cakes wrapped in aromatic leaves, sweet breads with egg, zhong dumplings, and seafood and meats with spicy sauce on skewers.
Recommended Sichuan Food Restaurants in Shanghai
Local Flavor Restaurant
2F, No. 803, Jiujiang road, Huangpu district, Shanghai
021-63613854
Qianlong Meishi Restaurant
No. 72-76, Huanghe road, Shanghai
021-63276733
Nanhai Hotel
No. 11, Sichuan nan road, Shanghai
021-63308402
Bazhen Crab Hot Pot Restaurant
2 f, No.311, Nanjing dong road, Shanghai
021-53531051
Mileyuan Restaurant
No. 3111, Zhoujiazui road, Shanghai
021-65433328
Pengyuan Sichuan cuisine Restaurant
No. 4452, Zhoujiazui road, Shanghai
021-65662781
Chuanguoyanyi Restaurant
2F, Guangfa bank center, No.555, Xujiahui road, Shanghai
021-63901436
Pinchuan Sichuan cuisine Restaurant
No. 47, Tiaojiang road, Shanghai
021-64379361
Chuanjiashifang Restaurant
No. 2463, Xietu road, Shanghai
021-64691525