Do the Shanghai tours from every look the same? Do you have limited time but want to see Shanghai past and present? Are you just up for some adventure? Try our vintage motor cycle and side-car Shanghai tour? Experience Shanghai like never before for 2-4 hours. We are sure you will not be disappointed.
Seeing this amazing for a side-car provide an opportunity to see places and things that are usually impossible. The media are raving about the experience so why not check it out in Lonely Planet, on the BBC or read about it in ELLE or Vogue.
What is it like?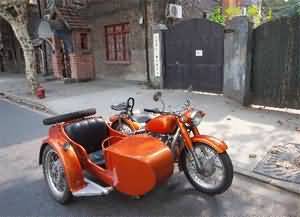 Sidecar is a vintage motorcycle with side-car that can carry the driver and 2 passengers. It was once a popular means of transport but disappeared some year ago when China modernized.
The sidecar is comfortable for 1 large adult. The pillion seat is also available for 1 passenger. The rider can hold on to a sturdy rail on the side and quality helmets are provided. The pillion seat also provides a higher viewpoint to see the city.
What will you see?
Now the most popular Sidecar Travel provider is Shanghai Insider, which is also our provider. Most of their routes in Shanghai include essential part of Shanghai in new town and old area like The Oriental Pearl TV Tower, Centaury Avenue, the Bund and the French Concessions. Moreover, they reach nice places that vans and group tour won't go, such as private club, attractions less-trekked and even some shabby local houses.
Also customers could tailor-make their trip according to their own tastes and requirement. Just tell what you like and your time, they will give you some nice suggestions based on what you need and offer a suitable sidecar experience.
Are the drivers good?
The drivers also act as guides. They are local people who speak fluent English and are knowledgeable about Shanghai. Some are expats who have worked in Shanghai for over 3 years and know it well. All are properly licensed and qualified and have had specific training. They travel slowly so that you can see the local life and are easy-going and ready to help.
What's the Experience?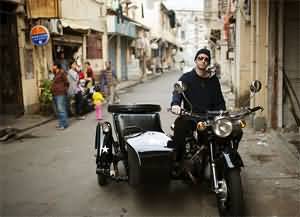 This tour is great for singles, couples and for people with children. The driver will meet you at a prearranged meeting point, which is usually in the city center. As we often arrange hotels in the city center for our customers, it is possible to pick you up at your hotel in the downtown at a prearranged time.
The sidecar tour last from 2-4 hours depending on the route. 1 hour is possible if your time is really limited. The driver has a good understanding of your route before the tour. He will maximize the time spent on the bike by traveling through different part of the city. It is possible to go across the Huangpu River by a ferry boat.
Extras
During summer, customers will be provided with an old style Chinese fan to keep cool and in winter a blanket and an army cap will be provided to keep warm. Hot wine can also be provided for an extra fee during winter.
The Cost
Each sidecar tour is individually designed. 1-5 bikes cost about RMB 1100 per bike. If more than 5 bikes are required we will be able to negotiate a better rate.
Note: Insurance is available and costs per RMB 50/person. Insurance is optional.
Recommended Tour
2-hour Motocycle Side-car Shanghai Tour from US$ 267: 1933 Old Factory, Shanghai Old Street and private club of Kee Club