Best-selling Tours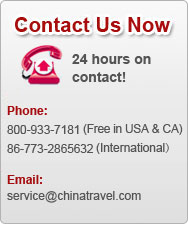 Shanghai's Neighbours
Shanghai is blessed with many beautiful neighboured cities in a short distance. Thanks to the high-speed railway, most cities are only 30 mins to 1 hour train ride from Shanghai like Suzhou, making a comfortable side trip. Water towns around Shanghai like Tongli and Zhouzhuang offer much to do for visitors in Shanghai with only 1 hour to 2 hours driving time.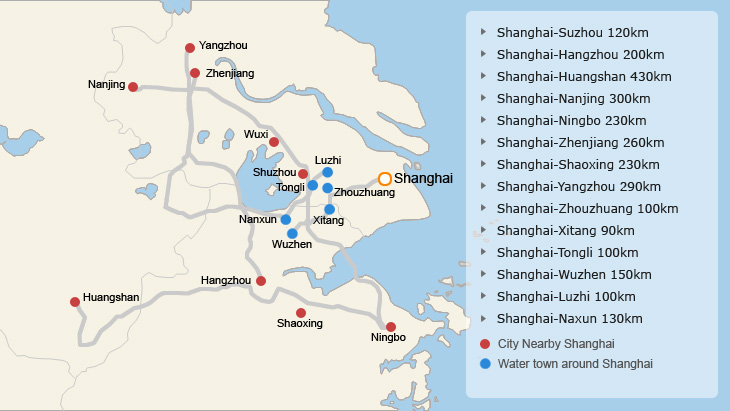 Cities around Shanghai
Hangzhou

A famous Chinese saying goes "above there is heaven, on earth there is Hangzhou". Renowned as a popular tourist destination in china, Hangzhou is a bustling resort with many historical heritage sites as well as impressive natural beauty. The west lake, with its extraordinary scenery and temples of historical, cultural and aesthetic value justify the city's legendary status as "paradise on the earth". Other sights here are Lingyin Temple, Six Harmonies Pagoda and the Peak Flew from afar.
Suzhou

Renowned as "Venice of the east" and "heaven on earth", Suzhou is famous for its unique, elegant gardens, its network of rivers and canals, and its silk production. The city is very attractive, with a lot to offer visitors, including ancient, beautifully architected gardens, temples, stone bridges, silk factory, and traditional Chinese lifestyle and so on.
Wuxi

Standing by the Grand Canal, Wuxi is a significant historical city and has been an important trade center in the area for centuries. The completion of the Grand Canal in the Yuan dynasty was a major factor in the city's rise, but its role gradually declined as the transportation route fell into disuse. Taihu Lake is the largest fresh water lake in china.
Zhenjiang

Zhenjiang is at the south bank of the Yangtze River in Jiangsu province. Zhenjiang used to be an important trade port along the Grand Canal from Beijing to Hangzhou. Zhenjiang is at the south bank of the Yangtze River in Jiangsu province. Zhenjiang used to be am important trade port along the Grand Canal from Beijing to Hangzhou. The completion of the canal was a major factor for the city's rise. The city's role in history declined gradually after that magical trade line fell into disuse.
Yangzhou

Yangzhou, on the north bank of Yangtze River, emerged during the spring and autumn period (770-476 b.c.) when fu chai,king of the Wu state, built his defense system. Over centuries, Yangzhou is one of the most inspiring places which has inspirited generations of Chinese poets and painters. Yangzhou, on the north bank of Yangtze river, emerged during the spring and autumn period (770-476 b.c.) when fu chai,king of the Wu state, built his defense system, eventually it grew into a large, population city.
Shaoxing

Shaoxing is a well-known tourist destination with colorful culture, remarkable tradition and unique landscape belonging to the area in south Yangtze River. Shaoxing has a long history of over 4,000 years. It was said that in the xia dynasty 4,000 years ago, Dayu, leader of a tribe in the low reach of the yellow river once visited Shaoxing twice for water-control.
Nanjing

Nanjing is an age-old city with both modern and ancient features. It served as the capital for six ancient dynasties, and harbors some glorious remnants of times gone by. History has left the place numerous historical sites and heritage relics which now constitute the main attractions. The mausoleum of dr. sun-yat-sen, mingxiaoling mausoleum, qinhuai river, the memorial hall to the victims in the Nanjing massacre.
Ningbo

Located in the south of the fertile Yangtze delta, Ningbo is a city of affluence. Ningbo began to flourish in the 7th and 8th centuries as a trading port when many Portuguese traders started to migrate here. Over the years, Ningbo has developed into a key port for china's foreign trade. It also served as a center of culture and religion in the area. Ningbo offers visitors many temples and Buddhist monasteries including Putuoshan Island, Baoguo Si and Tiantong Temple.
Huangshan

Located in the south of Anhui Province, with an area of about 1,200 square kilometers, known as "the loveliest mountain in China",famous for magnificent scenery whatever the season: granite peaks piercing the clouds, strangely shaped rocks and gnarled trees, hot springs, waterfalls, wonderful outlooks and over 1500 plant species. No traffic within the core area of about 150 square kilometres, accessible by cable car or on foot. Many enticing walks of all grades, all include some steps.
Hangzhou
Suzhou
Wuxi
Zhenjiang
Yangzhou
Shaoxing
Nanjing
Wenzhou
Yiwu
Ningbo
Huangshan
Water Towns around Shanghai
Luzhi

Luzhi ancient town is in Kunshan city, about 25 kilometers away from Suzhou. The town is around one square kilometer. It has a long history of more than 2,500 years. The town is characterized by small water lanes, stone bridges and the riverside ancient buildings. There are in all about 41 well preserved ancient stone bridges of different styles and size. These highly distinctive bridges include multi-arched big bridges, solo-arched bridges, well-ornamented and twin bridges with the two bridges look almost the same.
Nanxun

Nanxun was one of the few "affluences towns" in China and was called the" town of wealth" in the Ming and Qing dynasties. The town is at the Jiashan hu basin, about 120 kilometers to the west of shanghai, 65 kilometers to the south of Suzhou and 125 to the north of Hangzhou. In the Qing dynasty, the bustling town was the focus of many wealth merchants, many of whom once engaged in business and settle down here. The well-known sixiang-four richest persons in the south Yangtze River area were all in Nanxun.  
Wuzhen

Wuzhen, located in the north of Zhejiang province, is embraced by the Beijing Hangzhou Grand Canal with rivers and canals crisscrossing the whole town. For hundreds of years, its residents have been building houses along the rivers and trading near the bridges. The ancient docks, waterside pavilions, and corridors stretch out for miles and erect a romantic atmosphere that is typical to Jiangnan water towns. Wuzhen boasts its prosperous past and simple lifestyle.
Zhouzhuang

Zhouzhuang lies at the middle between shanghai and Suzhou, is an ancient town of Kunshan city, Jiangsu province, where abounds with rivers and lakes. So it is thought by many to be the best waterside town in China. This ancient town has a history of more than 900 years old with many houses built in the Ming and Qing dynasties. There are about 100 houses with courtyards, and 60 of them have arch gateways made by carved bricks.
Tongli

Tongli is an aged town located a short drive from Suzhou, which is about an hour drive outside of Shanghai. Tongli is over 1000 years old and has only recently been changed into a tourist attraction. The town is characterized by stone bridges and well preserved ancient architecture including private gardens, temples and houses.
Xitang

In the north of Jiashan County, Zhejiang province, Xitang is an ancient town with peaceful and beautiful environment. It features flat terrain, crisscrossed rivers, numerous, bridges, lanes and ceilinged corridors. Ceilinged corridors are the most special scene in Xitang construction. These corridors were originally built to make convenience for the residents trading on boats by the side of the rivers.
Luzhi
Nanxun
Wuzhen
Zhouzhuang
Tongli
Xitang