Brief Introduction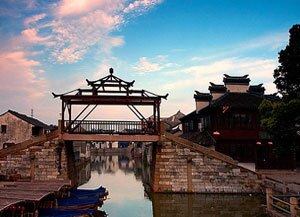 Tongli is an aged town located a short drive from Suzhou, which is about a hour drive outside of Shanghai. Tongli is over 1000 years old and has only recently been changed into a tourist attraction. The town is characterized by stone bridges and well preserved ancient architecture including private gardens, temples and houses.
15 small river lanes crisscrossed the town, over which spans around 49 stone bridges in variety of styles. Bridges are important parts of the town. The most famous bridges among the 49 bridges in Tongli are the three bridges called Taiping (peace), Jili (luck) and Changqing (celebration) bridges, which has been important landmarks of the place and regarded as the sacred architecture by the locals. Whenever there is an important occasion, such as wedding, people would like to walk through the three bridges, which is supposed to bring peace, fortune and happiness in their lives.
Buildings well preserved from the Ming and Qing Dynasties standing by the rivers fill the town. The traditional gardens are well worth seeing. The Tuisi Garden makes a good example. The garden was constructed between 1885 and 1887 by an imperial official. In the garden, pavilions, terraces, halls, rockeries, ponds and other elements of the garden were harmoniously integrated together.
Weather and Climate
Tongli is in the subtropical zone with the four seasons distinctively separated. April-July is the best season when the climate is the most comfortable and scenery is the most beautiful with sprouting plants and blooming flowers. A winter visit can give people a different experience when the town blanketed by snow is like a traditional Chinese painting.
Transportation
How to get to Tongli
Take the bullet train to Suzhou and than take a 45 minutes bus from Suzhou bus station will take you to Tongli. The bus from Suzhou to Tongli Water Town operates every day from 7:15am to 5:15pm and the bus ticket is 8 Yuan.
By Air
If you need to fly from other city, drop off Shanghai Pudong Airport or Shanghai Hongqiao Airport.
There are many bus to Suzhou available at Shanghai Pudong Airport: departure time is 10:40,11:20,11:50,12:50,13:50,14:40,15: 20,16:10,16:50,17:50,18:50,19:40, 82 Yuan a ticket.
Shuttle bus from Shanghai Hongqiao Airport to Suzhou is from 10am to 7pm in every one hour, one train per hour, 50 Yuan a ticket. You can also choose to go to Shanghai and rent a car to get there.
By Railway
Take a train to Tongli normally from Suzhou Railway station, if departure from Shanghai, the bullet trains departure in every half an hour, only half an hour can get to Suzhou, if departure from Nanjing, it will takes one and an half hour by bullet train, tourist departure from Hangzhou will takes two and an half hour to get to Suzhou, but very few bullet trains departure from Hangzhou to Suzhou, we suggest to take a bus from Hangzhou bus station will save your time.
By Highway
The shuttle bus with air –conditioning from Nanjing to Suzhou will takes 3hours, 70 buses a day to get there.
Suzhou Railway Station Square has buses waiting tourists to Tongli, which is very convenience, the bus ticket will cost 8Yuan and almost takes one hour.
Bus from Suzhou to Tongli usually has there type of bus for options
First type : Bus tickets 8 Yuan, normally you can see white and yellow bus, the car says "Suzhou tourism transportation " in Chinese, travel time is about an hour.
Second type: Bus tickets 8 Yuan, it will go through highway. Will cost about 40 minutes, but the it is the slower bus which will pick up tourist from different appointment.
Third type: Bus tickets 8 Yuan, it is a six seats van, the disadvantage is departure at least of 4 people.
Tips:
If you want more tour of east part of China after Tongli, we suggest to take a tour to Shanghai by bus from Tongli station, or take a tour to Suzhou by bus.
Food
Never miss the chance to taste fresh aquatic plants and fish. Most of the food is sweet. famous snacks include smoked fish, dried bean curd, cakes made of glutinous rice and spring rolls (fried stuffed rolls).
Top Attractions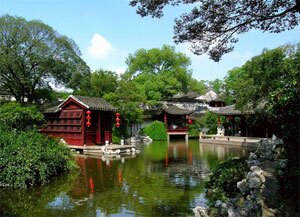 Tuisi Garden: Tuisi garden was built in the Qing Dynasty by a degraded official. In the garden, pavilions, terraces, halls, rockeries, ponds and other elements of the garden were harmoniously integrated together.
Three Bridges: On the netted rivers spans around 49m bridges in variety of styles. The most famous ones are the three bridges, Taiping(peaceful) bridge, Jili bridge(auspiciousness bridge) and Changqing bridge. the three elegantly chiseled bridges standing in the center of the ancient town look like three fine stone artworks sheltered by lush vegetations.