Brief Introduction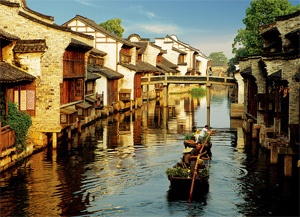 Wuzhen is found in the north of Zhejiang province and much like Suzhou, is part of the Beijing-Hangzhou Grand Canal. The citizens' way of life revolves around the rivers and canals that cut the land like snakes in the sand. Houses line the waterways and the bustle of traders near bridges and ports and piers seem relentless. The ancient docks, pavilions, and corridors contribute to a romantic atmosphere that hails to old China.
History has been kind of Wuzhen and its simple lifestyle and folk customs have been well preserved. The style of the boxing boats are very unique, as is Huagu Opera, shadow plays, and much more. These localized art forms invoke the rich traditional of the townspeople.
Through it all, Wuzhen is most known for its natural beauty and for being the home of many talented people throughout the centuries. The prince of the Liang Kingdom, Zhao Ming, once studied here, and literary masters such as Maodun have left cultural marks on the town.
Weather
The climate of Wuzhen is subtropical and monsoon style much like other areas in China. Typically there is a lot of sun. In the summer it averages 28.2 degrees Celsius and 3.3 degrees Celsius in the winter which is quite cold and worthy of protecting yourself against. About two-thirds of the year is frost-free. However, there are 4 distinct seasons—spring, summer, autumn, and winter—which makes this town very beautiful no matter when you visit.
Transportation
By Car or By Bus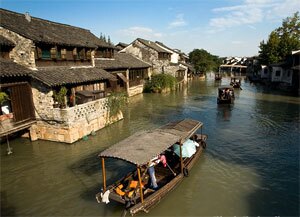 As Wuzhen is very close to Shanghai, many Shanghaiese visit on the weekends and holidays. The Shanghai-Wuzhen highway is well serviced and there are special bus lines that depart daily at most hours of the day.
From Hangzhou, there are no direct routes to Wuzhen; one must make a brief transfer at Tongxiang. From the town of Nanxun, travelers may take a bus to Jiaxing (or vice versa) to reach Wuzhen.
The town itself provides convenient shuttles and buses; tour buses can be taken from Shanghai, Hangzhou, Suzhou and Ningbo every day.
Local Transportation
The best way to get around Wuzhen is by rickshaw or taxi, both of which are economic options.
Accommodations
The town is a very rapidly popularizing destination for domestic travelers as well as outsiders. As such, there are many accommodations choices to elect. Hotels, inns, and budget hotels are all available depending on your own personal preference. Even in low travel seasons, many of the hotels may be fully booked due to Wuzhen's attractiveness, so it is advised to book your spaces as early as possible.
Food
Whether you patron large restaurants to no-frills street stalls, food in Wuzhen is a delight to indulge in. One popular local dish is made of steamed pork slices with glutinous rice flour wrapped in lotus which can be found in the most traditional eateries. Visitors may also eat in a local's home, much easier to arrange if you speak Chinese! The food here may be a bit simpler than elsewhere in China, but the experience is always one to remember.
Top Attractions
The Former Residence of Maodun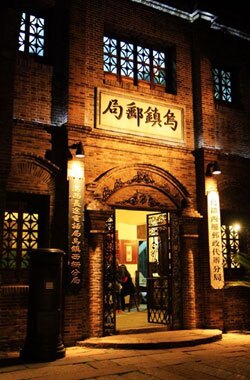 Maodun is a famous writer from the eras of modern China. His novel titled "Midnight" is among his most well known. The litterateur's former home where he spent his childhood is found on Guanqian Street. The construction is distinctly traditionally Chinese in the Qing Dynasty style.
Xiu Zhen Guan
This is a Taoist temple created in the Xianpingyuan period of the Bei Song Dynasty. When considering the Yangtze River, Xiu Zhen Guan is among the top 3 most revered Taoist temples in the river's south bank.
Ancient Stage
Found in the town, this stage is almost 300 years old (completed in 1749) and flanks a major river and faces a plaza. In the past, farmers would come into town to watch plays while rowing their boats. As such, the show would go on with boats moving all around it, a lovely sight indeed.
Local Housing
There are countless homes that stand today that were directly influenced by the style of the Qing Dynasty. See the pieces of history interact here in Wuzhen by way of architecture.