Meals: No Meals
Hotels: Radisson Blu Hotel Shanghai New World   |  SSAW Boutique Hotel The Bund   |  Kingtown Hotel Plaza Shanghai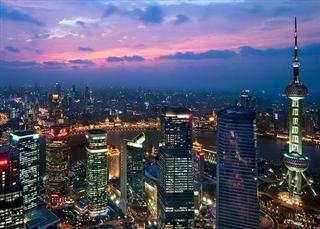 - Yuyuan Garden: Yuyuan Garden is located in the center of Shanghai old quarters. It was a private garden built in 1559 during the Ming Dynasty, with typical Chinese classic architecture and style. The complex covers an area of 2 hectares, with rockeries, pavilions, ponds and corridors. Yuyuan Garden is surrounding by a busy market place, where visitors can find everything from popular local snacks, handicrafts, antiques and souvenirs to some famous time-honored restaurants.
- Shanghai Urban Planning Exhibition Hall: A short walk across Renmin Square from the Shanghai Museum, this is a fascinating insight into Shanghai's future. The 2nd floor has a giant walkaround model of the city, and other floors have great displays, interactive exhibitions and walkthroughs of aspects such as the ports, greening, leisure etc.
- Oriental Pearl TV Tower: One of the tallest TV towers in the world, known for its distinctive spheres, or "pearls", it stands across the river from the Bund, among the exciting architecture of the east bank. The Shanghai History Museum is Located on the first floor of the Oriental TV Tower. There you can see the four major exhibition units reflecting Shanghai's history, modern and recent revolutionary history respectively.
- The Bund: This 1.5-kilometer-long embankment runs along the western bank of Huangpu River. On its west side it is the "architecture gallery" with 52 well-preserved old European style buildings. Once the major trading and commercial center of old Shanghai, the Bund has now taken on new vitality, with futuristic developments, chic restaurants, top end shops and bars offer plenty to see and do-and by night it's magic!
- HOMES SHANGHAINESE RESTAURANT: HOMES SHANGHAINESE RESTAURANT is located near the Nanjing Road. It specializes in Shanghai cuisine using the best local ingredients. Smoked fish and red jujube with sticky rice are well known in Shanghai. The restaurant enjoys a great reputation with diners from many parts of China and abroad.
Meals: Breakfast, Lunch at HOME'S Shanghainese Restaurant(Lunch)
Hotels: Radisson Blu Hotel Shanghai New World   |  SSAW Boutique Hotel The Bund   |  Kingtown Hotel Plaza Shanghai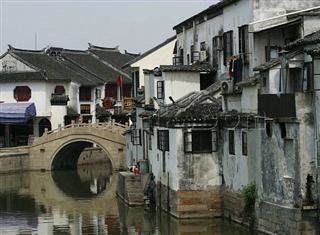 - Tongli: Tongli town has a history of more than one thousand years. There are over hundreds of gardens established in Ming dynasty and Qing dynasty, temples, cartilages and former residence of eminent souls. Fifteen rivers divide the town into seven islands and fortynine sets of historic bridges connect the town as a whole.
- Tongli Boat Ride(20 Minutes): A Tongli boat ride is the best way to experience this water town.
- Humble Administrators Garden: The garden is the best representative of Chinese classical gardens, constructed in the Ming dynasty, which focuses on a central pond with pavilions, terraces, chambers, and towers located nearby, the garden is divided into three parts: the eastern, middle and western parts. At 5 hectares the largest of these beautiful gardens, it is one of the most famous one. It provides everyone with pleasure. Don't miss the Garden Museum - actually don't miss any of these lovely places. Tourists may wear comfortable shoes, as there's a lot of walking here.
- Tongli Nanyuan Tea House: The Tea House was build with traditional brick. The wooden facade is decorated in the Qing Dynasty style, and there are two floors with a total area of about 400 square meters. Tea House serves many types of tea including black teas, green teas, scented teas. The tea house also provides smoked green beans, dried carrots and other refreshments. Patrons are entertained by traditional performances..
Meals: Breakfast, Lunch at Tongli Nanyuan Tea House
Hotels: Pan Pacific Suzhou   |  Holiday Inn Jasmine Suzhou   |  Garden Hotel 
Day 4
Suzhou to Hangzhou by Train No. G7387 (Suzhou Railway Station - Hangzhou Railway Station) Dep 16:38 - Arr 18:07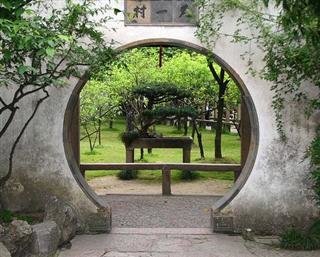 - Lingering Garden: Suzhou is famous for its gardens. Lingering Garden is an elaborate succession of small gardens. Lingering in a garden you will marvel at its unique architecture and art. Designed to "linger" through the generations, with a succession of small beautifully landscaped gardens, pools and pavements and a pavilion for each season. It has wonderful covered walkways, carved corridors, elaborately shaped doorways and perfect viewpoints for a variety of perspectives on this special garden.
- The No.1 Silk Factory: Suzhou is famous for its silk produts. Tourists may go and see how the silk is processed from worm to the final product, and some of the silk history of in China. There's also an opportunity to buy something beautiful from the showroom, or just enjoy the goods on display.
- Rickshaw ride: Through the old streets & Hutongs in Suzhou, you will see local people's life.
- Shuixianglou Restaurant: Water Town restaurant is an old local restaurant in Suzhou which offers the authentic local Suzhou food. For those who like something a little spicy the Fish with Chinese Sauerkraut is a specialty.
Meals: Breakfast, Lunch at Shuixianglou Restaurant
Hotels: Sofitel Westlake Hangzhou   |  Haihua Hotel Hangzhou   |  Enjoyor Hotel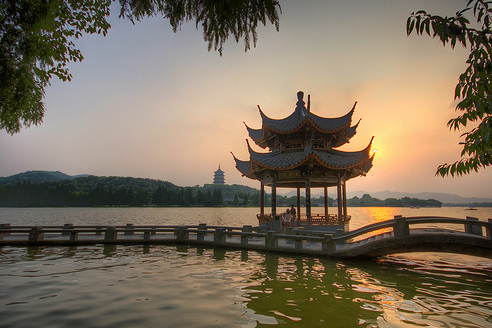 - The West Lake (including the Island on the lake) : West Lake has an area of 5.6 square kilometers (2.2 square miles) and is the symbol of Hangzhou which lies on its banks and is a place of tranquility. A visit to Fairy Island is worth it to see on of the Ten Best Views of West Lake - Three Pools Mirroring the Moon. The occasional pagoda and Chinese-style arched bridges add atmosphere to the tree-lined walkways, verdant islands and hills make West Lake a very special part of any China experience.
- Lingyin Temple: As one of the most important and wealthiest Buddhist temples in China, Lingyin Temple boasts plenty of pagodas and Buddhist grottoes. During the Eastern Jin Dynasty in 328 AD, Hui Li, a monk from India brought Buddhism to this area and founded this temple. At that time, nine multi-storey buildings, 8 pavilions, 72 halls and more than 1,300 dormitory rooms had made up this temple, and it was the national worship center. Located in front of the temple proper, Feilai Feng (Flying Peak) is an outstanding Buddhist grotto site, in which are engraved numerous Buddha images. Legend has it the peak was originally from India, and flew to Hangzhou overnight as a demonstration of the omnipotence of Buddhist law. Other attractions include Hall of the Heavenly Kings, Grand Hall of the Great Sage, Hall of the Medicine Buddha, Sutra Library, and Hall of the Five Hundred Arhats.
- Six Harmonies Pagoda: The Liuhe Pagoda is located on the north bank of the Qiantang River in the south of Hangzhou City. The Liuhe Pagoda is one of the famous ancient pagodas in our country and forms the wonderful sceneries of Hangzhou together with "the ten sceneries of the West Lake". Highly erected by the Qiantang River and to the south of the West Lake, it is a perfect symbol of brick-and-wood structure built in the ancient China. It was first built in 970 AD in the Northern Song Dynasty (960-1127). The name "six harmonies" comes from the six Buddhist ordinances, meaning "harmonies of the heaven, earth, east, west, south and north".
- Zhi Wei Guan Restaurant: On Yan'an road close to West Lake, Zhi Wei Guan Restaurant claims of a history of 100 years in serving local dishes, snacks with a fusion of traditional & modern recipes. Zuiji (chicken preserved in alcohol in a very small jar) is a traditional dish from Hangzhou cuisine and is one of their specialties together with fried cod & West Lake fish which has won international acclaim for Zhi Wei Guan Restaurant. Other specialties are lotus roots with sweet glutinous rice which is a favorite for food lovers hunting for authentic Hangzhou cuisine.
Meals: Breakfast, Lunch at Zhi Wei Guan Restaurant
Hotels: Sofitel Westlake Hangzhou   |  Haihua Hotel Hangzhou   |  Enjoyor Hotel 
Day 6
Hangzhou to Nanjing by Train No. G52 (Hangzhou Railway Station - Nanjing Nan (south) Railway Station) Dep 09:07 - Arr 11:19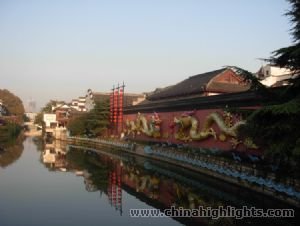 - Dr Sun Yat Sen Mausoleum: Dr. Sun-Yat Sen's Mausoleum, at the foot of the majestic Purple Mountain, is permeated with a solemn atmosphere. It often arouses a sentiment of respect with its glazed torii; steep, long stairways (392 steps) leading up to the memorial hall, and its inscribed headstone, which all attest to the great deeds of this honorable man.
- Confucius Temple: The Confucius Temple (Fuzimiao) was built in the year 1034 and dedicated to worshiping the great philosopher Confucius. Many shops, restaurants and bars, have been included with the temple to make it a commercial and entertainment center combining rich culture and arts. The Dacheng Hall in Fuzimiao scenic area has is the largest figure of Confucius in China. The largest river in the city - Qin Huai River flow in front of the Confucius Temple
- Qinhuai River Bazaar: The bazaar contains a mind-boggling array of goods. As the veil of night descends, the area is lit up with colorful lights, creating a quite impressive scene. A lovely street market is set up, and both tourists and locals alike joyfully participate in the bargain hunting.
- Xianheng Restaurant: The restaurant is located at Fuzi Temple, by the side of Qinhuai River. It serves Huaiyang Cuisine and local snacks.
Meals: Breakfast, Lunch at Xianheng Restaurant
Hotels: Lakeview Xuanwu Hotel Nanjing   |  New Era Hotel Nanjing   |  Orange Hotel Nanjing Confucian Temple 
Day 7
Nanjing to Shanghai by Train No. G7015 (Nanjing(jiangsu) Railway Station - Shanghai Railway Station) Dep 14:00 - Arr 15:36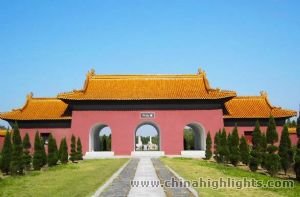 - Ming Xiaoling Mausoleum: The elaborate layout of the numerous tomb structures in the Mingxiaoling mausoleum is a fine example of ancient China's royal tomb construction, which was greatly influenced by the traditional Chinese theory of geomantic omen on location. This mausoleum also illustrates the predominant thought of power that dominated ancient China for over 5,000 years.
- Zhonghua Gate: Zhonghua Men Gate is the largest castle-style gate among the 13 ancient city gates in Nanjing. It's the best preserved and, architecturally, most complicated ancient castle in the world. The elaborately designed castle contains three closed courtyards and four arched gates serving as entrances to the city.
- Hongxinglong Restaurant: Hongxinglong Restaurant serves Chinese food based on the Huaiyang flavor.
Meals: Breakfast, Lunch at Hongxinglong Restaurant