Shanghai has been called the Paris of the east, now they're saying it's China's New York. But it should be unique. Shanghai is one of the world's greatest cities with an entertainment scene to match. Stylish restaurants, quality cuisine and a nightlife that's full of surprises. Shanghai has always had healthy cultural scene, with cinemas showing foreign and Chinese films, and theatres featuring opera, dance, drama, acrobatics and puppets. as a common understanding, Shanghai has the most colorful nightlife in China. But if you have ever participated, you may feel it is probably the most colorful one in the world!

Nightclubs and bars are always booming, with joints opening and closing faster than night can turn into day. Barflies now have a choice of everything from glamorous art deco lounges to the seediest watering hole; live rock and jazz can be heard into the wee hours and the dance club scene now employs djs, foreign and local, to keep the younger set raving.
Huangpu River Night Cruise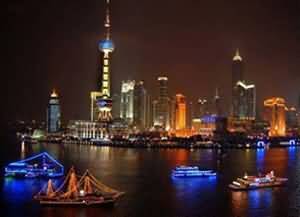 Huangpu river cruises run from 10am until 9pm and the cruises after 6pm are most popular. They provide a spectacular view of the Bund and Pudong District by night. It is rated by some as equal to that of Hong Kong harbor at night.
The regular cruise ships start from the Bund and pass the Oriental Pearl TV & Radio Tower, Binjiang Avenue and return to the Bund after reaching Yangpu Bridge. This is the most spectacular view. This allows passengers to appreciate the contrast of modern skyscrapers with the classical European buildings which are beautifully lit. Cruises including dinner are available for about 200 Yuan/person or just take in the sights for 100 Yuan/person. The cruises last for 40 minutes to 1 hour.
The cruise ships are operated by 3 cruise companies. Routes and prices may vary a little but all ships include the main sights.
Shanghai Service Travel Center
Watch a Night Show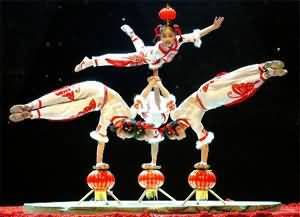 Night shows are a highlight of Shanghai nightlife and Shanghai has many to offer. The most special and popular ones for foreigners are Shangcheng Acrobatic Show and Era Intersection of Time.
Shangcheng Acrobatic Show 商城杂技
You may have seen acrobatic shows on TV, but there is nothing like it live on the stage! The show consists of about nine different 10-minute performances, ranging from classic acrobatics to contortionist and comic sketches. The show lasts 1 1/2 hours.
The show is on the 4th floor of the theater and ticket can be purchased at the entrance of the theater.
Era Intersection of Time 时空之旅
The show combines 8 performances by acrobatics, singing, dancing and some modern effects. They are Mirror Mirage, Magic Water, Floating Gondola, and Music of ERA, Jar Juggling, Wheel of Life, Forever and Space Motorcycles. Forever and Space Motorcycles are highlights. The seats are "in the round" so cheaper tickets still provide a good view. Photography is prohibited.
The shows promoters say "if you miss the Era, you miss Shanghai". It is staged at Shanghai Circus World and lasts about 1 1/2 hours. The show starts daily 19:30. There is no discount for children. Ticket office is at the entrance of Shanghai Circus World.
Explore Night Markets
Night markets are definitely a good way to see a city and experience local life. Shanghai is no exception. The night markets are usually local food streets and grocery streets.
Local Food Streets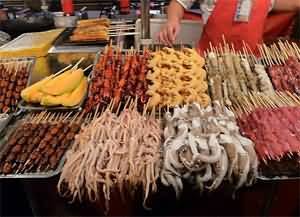 Street food is very popular with locals, especially the young people. Good food is very easy to sell. Most night markets starts at about 8:00 pm and close at almost 1:00 am.
Changli Road 昌里路
There are many different goods sold on this street but the street food is most famous. The most popular food is Zhou Bin Chou Tofu (Smelly Tofu). 2 hours is enough time to explore the market.
Tongbei Road 通北路
The main offering is seafood. It starts at 5:00 pm and close at 3:00 am. The most famous restaurant is Lao Si Shao Kao Restaurant(老四烧烤馆). 2 1/2 hours is recommended for the visit.
Shouning Road 寿宁路
Barbecue is a major highlight of Shouning Road and especially crayfish. Er Zi Barbecue Restaurant (二子烧烤店) is very popular. It provides take-way service so that visitors could enjoy crayfishes in other restaurants and taste barbecues from Er Zi Shan Kao Restaurant also.
Other Night Markets
These night markets are very popular with locals because they provide almost everything cheaply. Clothing, hats, shoes, flowers, animals, books and CD are all available. Street food is also available.
Linfen Road 临汾路
Zhongyuan Road 中原路
Dongchang Road 东昌路
Zhongshan Park Station of Metro Line 2 地铁二号线中山公园站出口
Night Walks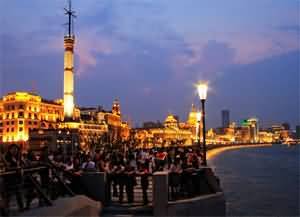 Shanghai by night can be simply enjoyed by yourself and combined with dinner or a drink. The French Concession, the Bund, Xintiandi and Sinan Mansions are quite easy to enjoy by yourself. Road signs are good. These areas provide good photo opportunities.
Former French Concession has many cafes and specialty stores which sell interesting items. The French Concession is a very popular and trendy area.
Hengshan Road, in another part of the French Concession has a pub culture and is a great place to watch a football game, listen to live music, dance etc.
With many good restaurants, outdoor seating and live tunes music, Xintiandi has become the hub for nightlife in Shanghai and Sinan Mansions has a number of high end cocktail bars.
On the other side of the road is the Bund where bars of all sorts abound. Bar Rouge is considered the must-go place for first timers. It has a great view but is expensive. Reservations may be required.
Whether you are looking to escape the summer heat, pass a rainy day or are devout movie enthusiasts, Shanghai cinemas will have exactly what you are looking for, if not more. While there are many theaters in town to choose from, here are a few of the more popular and unique options.

Shanghai Body Building Center
| | | | |
| --- | --- | --- | --- |
| Stadium of Western Suburb | Changning District | No. 1949, Hongqiao Road | 62198800 |
| Hongkou Football Field | Hongkou District | No. 444, eastern river bay road | 65400009 |
| Sports center for eighty thousand people | xuhui district | shanghai 80000 people stadium |   |
| Aosuoka rock climbing hall | Changning district | No. 1, Jiangsu road | 62115970 |
|  Zhang Deying table tennis center | Xuhui district | No. 128, Zaojiabin Road | 64674215 |
| Xiya paradise of healthcare | Baoshan district | No. 163, Songxing Road | 56841857 |
| Tianlu healthcare center | Changning district | Room3, no. 3, yingbin road (in hongqiao airport) | 62681800 |
| Shanghai international gymnastic center | Changning district | No. 777, Wuyi road | 62289488 |
| Shushi bao women healthcare and beauty center | Luwan district | Floor 6, no. 311, shandong mid road | 63297536 |
| Cherry health center | Huangpu district | Tengxin square, No. 80, Xinchang road | 63580088 |
| Shanghai meijin company for healthcare and leisure | Putuo district | No. 190,Lanxi Road | 62161756 |
| Beilinda healthcare club | Putuo district | No. 137, Lanxi road | 62430182 |