On arrival to Huangshan, your guide will meet you at the airport, pick you up and take you to your hotel. The rest of the day is yours at your own leisure.
Meals: No Meals
Hotels: Libre Resorts | Huangshan International Hotel(in the city) | Xinan Country Villa Hotel(in the city)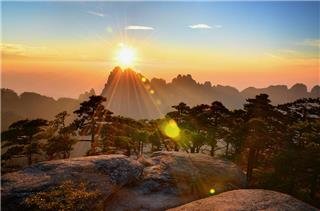 In the morning, we will take you on a visit to one of China's top natural destinations. Huangshan, also known as the Yellow Mountains, will surely become a favorite memory of your entire tour. The range offers many stunning views such as immense granite peaks, intense scenic vistas, surreally shaped rocks, and waterfalls that seem to come from paintings. This area is also very remote, so you can enjoy nature with peace and quiet. You can take the Yungu cable car for a panoramic view.
Meals: Breakfast, Lunch at Buffet in a restaurant on the mountain
Hotels: Xihai Hotel (5-star) (in the mountains) | Shilin Hotel | Shilin Hotel
The Huangshan area is also home to some cultural highlights. First on your tour today will be the Shexian and the Tangyue Memorial Arches. In fact, Shexian is known as the "Town of Arches" famed for its many arches hailing from the Ming and Qing Dynasties. Some are made of fine wood while others are constructed of stone and other precious materials. Here, you will also learn how the history of the arches ties together with the roots of feudal society.
Nearby is the Bao Family Garden, once owned by successful businessman Bao and as famous as the Humble Administrator's Garden found in Suzhou. The once-private escape is famous for its bonsais, combining nicely with the arches of the area for a charming experience.
After lunch, go on a shopping excursion on Tunxi Ancient Street. There are hundreds upon hundreds of old but well preserved shops that sell everything from antiques, snacks, small crafts and toys, and more. Much of the products are very traditional. Also, the street is for foot traffic only so you can walk in peace.
Meals: Breakfast, Lunch at Popular local restaurants
Hotels: Libre Resorts | Huangshan International Hotel(in the city) | Xinan Country Villa Hotel(in the city)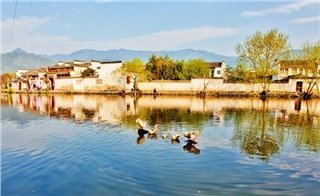 Before departing Huangshan today, we will first take you to the whitewashed Hongcun Village, about 10 kilometers from the northeast part of Yixian County. This ancient village is more than 800 years old and leans against Mount Huangshan. In fact, this area is so beautiful that the Oscar-winning film "Crouching Tiger, Hidden Dragon" was filmed here. Picturesque elements are around every corner, such as moats, bridges, and ponds that make up a classic Chinese view. Many artists from throughout the centuries have also been enchanted by the sights here, and UNESCO has recognized Hongcun Village as a World Heritage Site among other international highlights.
After lunch, it is time to explore Xidi Village. This is also a UNESCO World Heritage Site at the foot of Mount Huangshan about 54 kilometers from the city. Even older than Hongcun, Xidi has a history of more than 900 years although much of its original architectures are still preserved! The magnificent memorial archway is a point not to be missed.
At the end of your visits, we will take you to the airport for your departure trip.
Meals: Breakfast, Lunch at Popular local restaurants