Shanghai has an an abundance of museums from the ones you expect in a world-class to odder exhibitions, from stated-owned to private. If you explore a little more, you'll a plethora of smaller ones with unexpected entertainments. Here are our picks of the city's most unusual museums.
Shanghai Musical Box Museum 上海八音盒陈列馆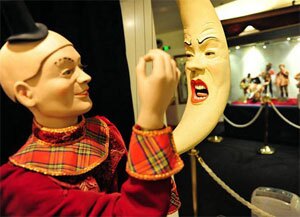 Shanghai Musical Box Museum (上海八音盒陈列馆) is an unexpected find within the Oriental Arts Museum. It is a fascinating display of the art and history of music boxes in Europe and the only exhibition of its kind in China.
There are over 200 exhibits, displaying the mechanical and technical wizardry so loved in Europe during the last few centuries. The 'boxes' are in fact everything from birds in cages to some really unexpected ways of triggering the music, dancing figures as well as those that have belonged to some very famous people. There is also what is thought to be the world's oldest music box (a nice little gold number from 1796).
Address: No. 425 Dingxiang Road, Oriental Arts Centre, 4 floor, Pudong New District, Shanghai
Ticket Price: Ordinary ticket is 50 Yuan/person, student tickets is 30Yuan/person; monthly Saturday on the first week and the third week are 25 Yuan for the tickets.
Opening Hours: 10:30am-5pm daily
Tel: 021-68547647
Getting There: Subway Line No 2, get off in science and Technology Museum station; bus No 638, 972, 815, 983, 984, 987.
Surroundings: Oriental Art Center, Shanghai Science and Technology Museum
Tips: the Museum also has Switzerland Reuge music box series products to sell.
Shanghai Natural Wild Insect Museum 上海大自然野生昆虫博物馆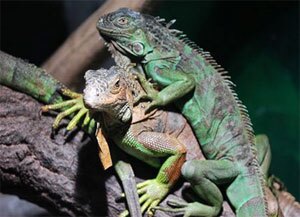 Apart from insects, Shanghai Natural Wild Insect Museum (上海大自然野生昆虫博物馆) also features a range of snakes, amphibians, fish, monkeys and various other animals. There are live and sometimes interactive exhibits as well as static displays. Some of the animals, such as the alligators, are behind glass, in other areas visitors can get up close and personal and pet or feed the animals.
It covers 3,000 square meters with 200 species of insects, including those that sing, those that procreate and every other strange instance of the insect world. Walk through a series of zones reflecting the countryside, forest, valley, desert, swamp and rainforest, such as Butterfly Valley, the Insect Gallery and Ecological Feeding Area. There are regular shows displaying animal behaviour, and introducing children especially to the oddities of the inset world.
Address: No 1, Fenghe Road Pudong New Area
Ticket Price: 50 yuan for adult, 30 yuan for child
Get There: Subway Line 2 to Lujiazui Road station; or Bus No 81, 82, 983, 961, 870, 985.
Tel: 021-58405921
Surroundings: Oriental Pearl Tower, Super Brand Mall, Pudong Riverside Promenade
Tips: the Insect Theatre has animal show every weekend at 11am and 2pm.
Shanghai Nanjing Bells Collection Museum 上海南京钟藏馆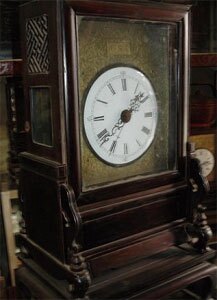 Shanghai Nanjing Bells Collection Museum (上海南京钟藏馆) was founded by Nanjing Bell connoisseur Liu Guoding, craftsman and clockmaker. The 'Nanjing Bell' is actually Chinese clock, large, ornate and very attractive.
Liu Guoding collected and restored over 70 of these clocks, dating from different periods, including some very large ones through to quite small. All have great artistic value, using mahogany, sandalwood or other timbers, some with ivory inlay or precious metal panes, and beautifully decorated. Nanjing Bells are originated in 19th century in Nanjing, hence the name. No more were produced after the SinoJapanese War (1937-1945), so well-preserved samples are limited, and popular with Chinese and foreign collectors.
Address: No 193 Duolun road, Shagnghai
Ticket Price: Free
Get There: Metro line 3 and line 8 to Hongkou fottball stadium station; or take bus 21, 597, 939, 854, 962, 47.
Tel: 021-56964048
Opening Hours: daily 9am-4pm
Surroundings: Duolun Road Cultural Street
Shanghai Chopsticks Museum (Kuai Zi Museum) 上海民间民俗筷箸馆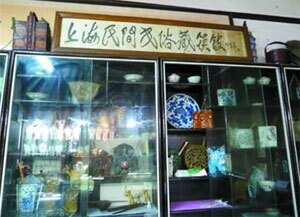 The Shanghai Folk Chopsticks Museum(上海民间民俗筷箸馆) was founded in July, 1988 by collector Lan Xiang, who travelled widely in search of chopsticks.
The displays include over 800 different types of chopsticks, from China, Korea, Japan and Thailand, and dating back to the Ming and Qing dynasties. The complete collection includes more than 1200 pairs of chopsticks, and is unique in China. There are commemorative chopsticks, and those with historical value. They are made from gold, silver, bronze, ivory, jade and wood and many feature sculpture and drawings. There are also chopsticks boxes and pads.
Address: No 191 Duolun Road, Hongkou Distric, Shanghai
Ticket Price: Free
Get There: Metro line 3 and line 8 to Hongkou football stadium station; bus No 21, 597, 939, 854, 962 , 47.
Tel: 021-56717528
Opening Hours: daily 9am-6pm
Surroundings: Duolun Road Cultural Street
Shanghai Railway Museum 上海铁路博物馆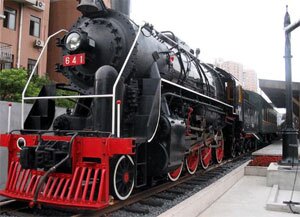 The Shanghai Railway Museum (上海铁路博物馆) is based on an 80% scale model of the Hu'ning Railway Shanghai Station and Yard which was built in 1909. There are steam locomotives on display outside the building, and a carriage used by senior officials in the 1930s (said to have been used by Madam Chiang Kai-shek (Seeon Mei Ling).
Inside the museum there are more locomotives, and 800 scale models of trains. There are alsYou will find photographs, films, and all kinds of memorabilia, all showing the history and development of China's railway industry. Multimedia exhibits let you try your hand at piloting a train ferry across the river. Old signalling equipment and modern telecommunications equipment, uniforms, train parts, replica offices complete with lifelike wax models of office workers, it's all here.
Address: No. 200 Tianmu Road, Zhabei District, Shagnghai
Ticket Price: 10 yuan
Get There: Subway Line 3 at Baoshan Road station; bus 952, 18, 922, 63, 502.
Tel: 021-51221987
Opening Hours: Tuesday to Friday 9am-11am, and afternoon 2pm-4:30pm; Saturday 9am-4:30pm
Surroundings: Shanghai 1933 Art Street