It seems that people living in Shanghaiare always very busy, no matter for work, meetings or even on trips, you could see hurry pace everywhere. The quick pace leaves most people Shanghai impression with only top-end shops, numerous banks and fancy places. For symbolic sites or the tranquil beauty of corners in Shanghai, they may feel familiar with those places but at the same time it is hard to find a chance to get close to them. It's time to stop your busy pace and hop on a bike to explore the charms of Shanghai on wheels in the open air!
This article is to help you look into the city by top 5 cycling routes ranging from essence of Shanghai to some off-the-beaten parts. Cycling route of Suzhou, a well-known Shanghai's neighbor, is also plus here because of its popularity and beauty. You could take a complete cycling route or just try some sections of a route due to your time and energy.
Route 1: Former Shanghai French Concession Cycling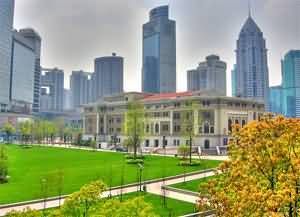 Distance: 20 km
Time: 3 hours
Difficulty: medium, partly due to the traffic and the length
Highlights: Enjoy daily life of old and modern Shanghai.
Route: Binjiang Avenue - Nanjing Road - People's Square - Shanghai Old Street - Xintiandi - Tianzifang - Old French Concession
Start off from Binjiang Avenue in Pudong District, the newest and popular area for Shanghai people. It is 2,734 yards long with a big pawn and a great music fountain which shows its best at night with colorful lights. There is also a special yacht dock whichis rebuilt from an old dock. Stop at the top of the beautiful lawn, one could enjoy a lovely view of the Bund across the Huangpu River.
Then go across the river by ferry boat for 2 Yuan/person with your bike and reach the Bund near Nanjing Road. It is the busiest and famous section in Shanghai and China where offers good point to take photos represents Shanghai most. Head over to the west along Nanjing Dong Lu for 1,640 yards straightlyto explore People's Square where locates Shanghai Museum and Shanghai's City Hall. It is the center of Shanghai where was also once an important horse racetrack before China's liberation.
Hop back to your bike to cycle south on Xizang Nan Luand turn left at the 4th block for Shanghai Old Street. The street reflects old shanghai with traditional even a bit broken-down old houses and now it stands many stalls selling souvenirs. Continue your way to Xintiandi by going west along Fuxing Dong Lu and FuxingZhong Lu which are connected by Xizang Nan Lu. Xintiandicombines old Shanghai's beauty with new functions like entertainment, dining and shopping. Shikumen buildings, the traditional architecture of Old Shanghai are preserved well there.
The next stop is Tianzifang in Taikang Lu. Go south from Madang Lu and turn right on Jianguo Lu. Keep moving after go across Chongqing Nan Lu and then turn left when seeing the sign of Taikang Lu.Tianzifang is located in 210 long of the road. It is an old alley with special stores, cafes and interesting places. Some people are still live there, adding vitality to the new creative street.
Very near Tianzifang is the last stop — Old French Concession. Go along Taikang Lu to the north for 88 yards and then turn left. After covering about 77 yards you will get to JianguoZhong Lu by turning right. Cycling on for several minutes you will see the Old French Concession. As one of the oldest 4 French concessions in China, Shanghai French Concession was once for rich men and politicians. Now many old buildings with different special designs left and it has become a street with cafes and interesting stores for leisure.
Route 2: Cycling Routes for Waterways around Pudong District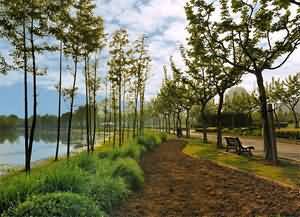 Distance: 9 km
Time: 2 hours
Difficulty: Easy with nice road condition. Take food or drink as no stores along the road.
Highlights: Water ways in new city district with nice scenery alongside.
Route: Century Park - Laoshan Lu - Zhaojiabang Canal
This route is easy but comfortable for outing, especially for families to relax outside together in a short distance. Start from Century Park metro station and ride north on Haitong Lu leading to Century Park. Cycle leisurely around the park and turn left to Fangdian Lu. Ride for about 1 km and then turn right without going across a bridge where offers a nice path leading to a beautiful canal.
With only a short distance, you need to turn left onto Laoshan Lu. Pedaling north and you will reach a set of traffic lights where you should turn right for Jinxiu Lu. Crossing the bridge and turn right to Heisong Lu.
Then turn left to the following track near Zhaojiabang Canal, which is a pretty waterway with willows and a nice path. It provides a space for spring outing or even fishing. The waterway goes for about 4 km until Jinqiao Lu. You could just cycle around for a whole morning or longer to let yourself get out of busy life.
Route 3: Ecological Cycling in Baoshan District
Distance: 16 km
Time: 3 hours
Difficulty: medium due to itinerary covering many places
Highlights: Cycling on the bike lane in the forests of Baoshan District to relax yourself, admire the painting-like scenery and learn about the history of Shanghai.
Route: Dudanjiang Road-Wusong Train Station Exhibition Hall-Navy Musuem-Wusong Paotaiwan Wetland-Commemorative Hall of the Liberation of Shanghai-Peninsula 1919
A short time after staring from the Mudanjiang Road, you will see the Wusong Train Station Exhibition Hall. A locomotive produced in 1956 is exhibited in a glass house. The rusty railway track on the gravels reminds you the old days of Shanghai.
The Wusong Paotaiwan Wetland is only three kilometers away from the train exhibition hall. The wetland, with a 1974-meter-long river bank, is beside the Yangtze River. A cannon emplacement was set up here around 300 years ago, but now the wetland, which covers an area of 110,000 square meters, is only used for tourism.
The Liberation Army was fighting to liberate Shanghai between 12th and 25th, 1952. All in events took place during the 14 days are recorded in the Commemorative Hall of the Liberation of Shanghai.
You will finally reach the Peninsula 1919, which was a textile built opened in 1919. The whole mill has been converted to a tourist attraction nowadays. The well-reserved old buildings here provide you lots of photo opportunities.
Route 4: Cycling Route for Gardens in Longhua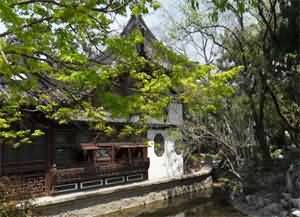 Distance: 15 km
Time: 2 hours
Difficulty: Easy
Highlights: Beautiful lotus and golden Osmanthus trees.
Route: Longhua Cemetery of Revolutionary Martyrs - Kangjianyuan Park - Guilin Park - Tianlin Lu.
This route is easy due to simply straight along the road and stops at several parks. So you could cycle leisurely to see what you may miss on busy days.
Start off at Longhua Cemetery of Revolutionary Martyrs, which was once for prisoningChinese communist by Kuomintang (KMT) during 1928-1937. It is next to the famous Longhua Temple. The park inside has many big trees especially different kinds of peach trees with a large lawn. Stop for some time there under the sunshine with your bike.
Continue to pedal southwest and turn left to cross over the bridge. Staywith the road and then turn right to TianshuiBei Lu. Along the street, turn left and then turn left again for Lucao Road. Follow the road until gets to Caobao Lu by turning right. Ride on the road for about 1.5 km and then take a left turn for Guilin Road. There you get to Kanjianyuan Park. Buildings in the park are Japanese style and plants are mainly lotus, peonies, osmanthus trees and cherry blossom. The big lawn offers a great area for picnic.
Go back on the road to the west and reach Guilin Lu where Guilin Park lies on the right. The park was once a private southern-style garden before China' Liberation and was open to the public after Liberation. Due to many osmanthus trees in the park, hence the name. (Gui refers to osmanthus and lin means many trees in Chinese).
The last stop is the flower market on Tianlin Lu. Cycle northwards along Guilin Lu until you see the entrance of Tianlin Lu. Go east on the road and the market is just on the left side. Return by the same route or take a taxi back home.
Route 5: Suzhou Highlights Cycling Tour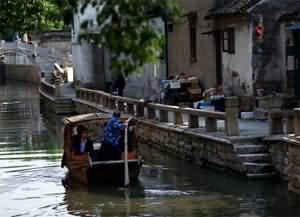 Distance: 15 km
Time: 3 hours
Difficulty: medium
Highlights: Old historic sites with beautiful scenery of Suzhou.
Route: Pingjiang Historic Block - Suzhou Museum - Chang Gate - Shantang Street - Jing Gate - the Ancient Grand Canal
Start off at Liuhe Lu where Antique Market on Dongtai Road is located. The market is considered to be one of not-to-miss market when shopping in Shanghai. Then cycle south to Shanghai Old Streetfor a close looking into Shanghai old buildings and numerous cheap souvenirs. First go on from Xizang Zhong Lu and then turn left when gets to Yan'an Dong Lu and turn right upon reaching Henan Nan Road. Go across Ren'mian Lu and you will see the Temple of City God (Laochenghuang Miao). Shanghai Old Street is behind Laochenghuang Miao on Houjia Lu.
Then go back from Henan Lu to Ren'min Lu for next stop — ZhouEnlai's Residence on Sinan Lu for a glimpse of the place where the most famous Chinese premier once lived. Continue to cycle on Ren'min Lu and move into straightly Huaihai Dong Lu. With covering 175 yards and turn left for HuaihaiZhong Lu where you will get to ZhouEnlai's Residence on Sinan Lu by going down directly.
Ride to visit Cite Bourgogne for rare old Shanghai building group combining with French buildings. It was once a part of French Concession. Ride from Sian Lu and go back to HuaihaiZhong Lu. With about 952 yards you need to turn left to Shaanxi Nan Lu. Go along Shaanxi Nan Lu for around 1200 yards you will see Cite Bourgogne on the left.
Continue your visit to Tianzifang, which is a perfect mixture of Shanghai traditional buildings with newly and interestingtrends among young people and artists. Start off at Shaanxi Nan Lu for the south and then turn left to Jianguo Xi Lu which links JianguoZhongLu. After cycling for 230 yards, you need to turn right for Taikang Lu where lies Tianzifang on the left.
Shanghai French Concession is the last stop. It is really worthwhileto have a leisure walk there to appreciate the special old buildings and come across some nice stores. Go north from Tianzifang for several minutes and turn left for about 77 yards. Turn right when seeing the sign of JianguoZhong Lu and Shanghai French Concession is just in 60 yards.