Walking through the buildings and alleys in Shanghai provides an opportunity to get the "feel" for the city, its cultural and its history. Shanghai is made for walking that is unlike other Chinese cities, so while you're there take the opportunity to explore some of Shanghai's secrets which are best discovered on foot.
Route 1: Walking into Old Time Memory of Shanghai French Concession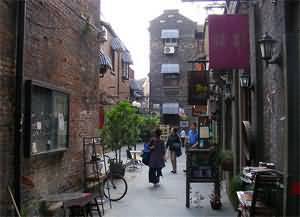 Highlights: Revisit Old Shanghai and the colonial-era Shanghai French Concession in Luwan District and Xuhui District.
Time: 4 hours
Stop 1 Okura Garden Hotel 上海花园饭店
Okura Garden Hotel is an old building in the baroque style with a new 33 story annex. Built in 1926, the original hotel truly reflects the life and characteristics of that time. Wandering around its 30,000 sq meters garden is a good experience.
Add: NO.58 Maoming Nan Lu, Huangpu District 黄浦区茂名南路58号
Stop 2 The Cathay Theatre 国泰大戏院
Built in 1930 The Cathay Theatre and opened to the public in 1932 and was principally used for English movies. The exterior design is classic Art Deco which matches the style of its surroundings with Lyceum Theatre, the Grosvenor House and Sassoon House.
Add: NO 870, Huaihai Zhong Lu, Luwan District 卢湾区淮海中路870号
Stop 3 Huaihai Lu 淮海路
Huaihai Lu consists of 3 sections. They are Huaihai Dong Lu and Huaihai Xi Lu, which are quiet and less-famous parts of the road. The other part is Huaihai Zhong Lu from Shaanxi Nan Lu to Xizang Nan Lu which is 2.2 km long.
Huaihai Zhong Lu is considered as the Champs Elysees Street of the East. It was called as Xia Fei Lu before the liberation and part of French Concessions. The street has European characteristics with big parasol trees and western style buildings.
Add: NO 1850, Huaihai Zhong Lu, Xuhui District 徐汇淮海中路1850号
Stop 4 Sinan Lu 思南路
Sinan Lu was originally called Rue Massenet when established in 1912. It was named to commemorate Massenet, a notable French musician who died that year in Paris. Different from other roads in the French Concession, Sinan Lu is unique because of 20 elegant garden villas reflecting the style of almost all house styles of Old Shanghai. They are considered a living specimen of this city. Walking between Ben Lan Lu and Jianguo Lu will take you back in time.
Add: Floor 1, the Grand Theater, NO 300, Ren'min Dadao, Huangpu District黄浦区人民大道300号大剧院1楼
Stop 5 Fuxing Park 复兴公园
Fuxing Park is the only French-style Park in Shanghai. Fuxing Park was once called French Park. It is one of the earliest parks in Shanghai and was opened to the public in 1909. The local people use the park in the early in the morning for many activities.
Add: NO 2 Jia, Benlan Lu, Luwan District 卢湾曲皋兰路2号甲
Stop 6 Tianzifang 田子坊
Tianzifang is an old alley located in Taikang Lu, which is part of French Concession. Tianzifang stands out as a traditional old residential which is still used for that purpose. Antique stores and other interesting shops provide attractions for visitors. It is also a great place for photography.
Add: Alley 210, Taikang Lu, Luwan District 卢湾区泰康路210弄
Route 2: Xintiandi to Hengshan Road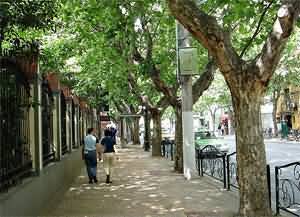 Highlights: This one day walk is a leisurely walk through two of the best areas from Xintiandi to Hengshan Road and combines the best of the old and new.
Time: 8 hours. As there are many cafes and restaurants along the road, there is no need to bring lunch but packing a drink would be good.
Stop 1 Xintiandi 新天地
Xintiandi is a new area based on Shikumen Buildings, which were present in the old Shanghai style buildings now house clubs, bars, shops, cafes and restaurant. A highlight could be Wu Li Xiang which is a display showing the daily life of the Shanghai people in the old days. 2-3 hour is recommended.
Add: Alley 181, Taicang Lu, Luwan District 卢湾区太仓路181弄
Stop 2 Hengshan Lu 衡山路
Fuxing Zhong Lu connects Xuhui District and Luwan District. It was once the main road in the French Concession and called Route Lafayette. It has many French style buildings with small gardens. It is a quiet spot in the noisy city.
Hengshan Lu has a history of over 80 years and is 2.3 km long. Built in 1922, it was known as Bei Dang Lu and also a part of the French Concession. It was renamed Hengshan Lu in 1943. European style buildings and pedestrian streets under tall parasol trees make the street very photogenic.
Add: Hengshan Lu, Xuhui District 徐汇区衡山路
Route 3: Historic Hongkou Walking Route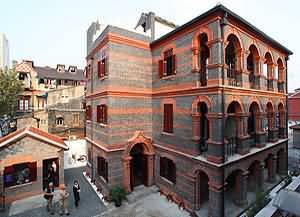 Highlights: Walk on a less-traveled path to get a deeper sight into Shanghai's history.
Time: 4 hours
Stop 1 Shanghai Jewish Refugees Museum 犹太难民纪念馆
Shanghai Jewish Refugees Museum is the former site of Moses Hall which was a private house. It was renamed the Shanghai Jewish Refugees Museum in 1992 and has received many celebrities. It is the most important site to commemorate Jewish history in Shanghai.
Before and during World War 2, many Jewish refugees fled to Shanghai and gathered in Hongkou Area. An estimated 15,000 people lived there. In 1927 the house was converted for use in worship and meetings for Russian Jews and Central European Jews who lived in the area.
Add: NO 62, Changyang Lu, Hongkou District(Near Zhoushan Lu)虹口区长阳路62号(近舟山路)
Stop 2 Shanghai Postal Museum 上海邮政博物馆
The Shanghai Postal Museum was commenced in 1922 and completed in 1924 and was listed as one of Main Ten Buildings in Shanghai at that time. It was then the Shanghai Postal Administration. The exterior of the building is classical English style.
Floor 1 is the museum showing the history of Chinese and some foreign postal services including the South Pole. Valuable relics and stamps are on display. Floor 2 is a very big hall once for business and once was well-known as the First Hall in the Far East.
Add: NO 395,Tiantong Lu, Hongkou District(Near Sichuan Bei Lu)虹口区天潼路395号(近四川北路)
Stop 3 Duolun Lu 多伦路文化名人街
Duolun Lu is 510 yards long. It was unique as the home of many writers including Luxun, Maodun and Guomoruo. It is considered as a cultural hot spot from 1920-1930. No wonder there are so many celebrity sculptures along the street. The street has many small private museums with collections of ancient money, books, clocks and porcelain etc.
Add: NO 146, Dongjiangwan Lu, Hongkou District 虹口区东江湾路146号
Stop 4 Luxun Park 鲁迅公园
Luxun Park was once called Hongkou Park and was built in 1896 during the Qing Dynasty. It was the first sports park in China. The park was designed as an English garden. Though it is located in the busy city center, it is quite tranquil. Both Luxun Tomb and Luxun Memorial Hall are situated in the park. For about 2 years during the 1920's the International Business Group, a paramilitary organization, often did morning and evening drill in the park. This was a time when foreign powers controlled Shanghai vied for control of Shanghai.
Add: NO 280,Tianai, Hongkou District 虹口区甜爱路280号
Stop 5 Luxun Memorial Hall in Shanghai 鲁迅纪念馆
Shanghai Luxun Memorial Hall was built to commemorate Luxun who was a very important cultural master in Chinese history. The memorial shows the cultural achievements during Luxun's life by using high-tech means, including videos and scene models. The Interaction Area is also very popular with visitors.
Add: NO 100, Tianai Lu, Hongkou District 虹口区甜爱路100号
Route 4: Explore Jewish History in Shanghai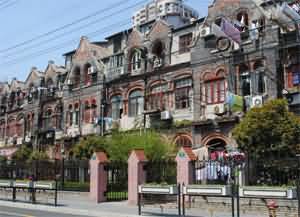 Highlights: The Jewish history in Shanghai has come into prominence in recent years in China and in other part of the world.
Time: 4 hours
Stop 1 Huoshan Park 霍山公园
Huoshan Park, built in 1917, was used as a burial ground for Jews during World War 2. The parents of Mr Labin, premier of Israel, are buried in the park. During World War 2, many Jews lived in Shanghai often gathered in this place. A house used for Jewish refugees is maintained in the park. The park is free to the public and there are many vendors selling street food at the gate.
Add: NO 118, Huoshan Lu, Hongkou District 虹口区霍山路118号
Stop 2 The Former Site of The American Jewish Joint Distribution Committee in Shanghai 美犹联合救济委员会旧址
The American Jewish Joint Distribution Committee (JDC) is a worldwide Jewish Relief organization which was established in 1914 and whose headquarters is in New York. The Shanghai office was located in Huoshan Lu. Many Jews fleeing from Europe got help from the JDC. The house is now a private residence.
Add: NO 119 and 121, Huoshan Lu, Hongkou District 虹口区霍山路119及121号
Stop 3 The Former Site of Jewish Refugee Camp 犹太难民收容所旧址
Jewish Refugee Camp was the biggest of the 7 Jewish Refugee Camps. Previously it was the Belarusian barracks for the International Business Group. It accepted over 1,000 refugees.
Add: Alley 138, Changyang Lu, Hongkou District 虹口区长阳路138弄
Stop 4 Shanghai Jewish Refugee Museum 上海犹太难民纪念馆
The last stop in this walking route is the highlight. The Shanghai Jewish Refugee Museum is in the former site of Moses Hall. It has 2 exhibition halls. In 1927, Russian Jews bought this building as a place to pray, worship and meet. The building is 3-stories with Jewish style decoration at the entrance. It became a spiritual anchor for Jews in Shanghai during World War 2. It is the best place to revisit Jewish history and see artifacts of the Jewish period in Shanghai.
Add: NO 62, Changyang Lu, Hongkou District 虹口区长阳路62号
Route 5: Three Itineraries on the Chongming Island
How to get to Chongming Island from Shanghai: You can take a ferry from Baoyang Port. It takes 40 minutes and costs you 20 RMB.
Itinerary 1: Nanmen Port-Aoshan Road-Gulangyu Road-Gangdong Road-Beiyan Road-Dongping National Forest Park
Time and Length: 5 hours; 19 kilometers
Highlights: Almost every part of the itinerary is covered by think trees. You will feel like walking in a forest. Neither summer heat nor winter chill can hurt you!
Itinerary 2: Nanmen Embankment-Sanshahong, Gelonggang and Miaogang Water Gates-Xisha Wetland
Time and Length: 6 hours; 21 kilometers
Highlights: Walking along the embankment, you will see the surging Yangtze River and enjoy the incredible scenery of Xisha Wetland.
Itinerary 3: Baozhen Gang Port- Nanmen Sightseeing Embankment- Nanmen Port
Time and Length: 10 hours; 30 kilometers
Highlights: You can walk on the embankment at own pace and enjoy the view of the Chongming Island. It will be a good idea to spend one night on the island if you don't want to be too tired.