With a history of over 2000 years, Hangzhou is one of the most renowned places of interest in China. Based on the West Lake, Hangzhou's tourism is developing prosperously. The lake is also the source of inspiration for thousands of ancient poems or operas. These cultural legacies make Hangzhou even more charming!
Day One – Bask in the Beauty of the West Lake
The West Lake area is today's destination. Most highlights on the West Lake are included. Furthermore, today's attractions are all FREE!
Duanqiao Bridge and Baidi Dam (one hour)
Take a morning stroll on the Duangqiao Bridge and Baidi dam to create your first impression of the West Lake. The breeze and willows along the bridge and dam will make you fall in love with the West Lake and Hangzhou. If you learned about ancient Chinese story "Legend of White Snake", which was composed based on the Duanqiao Bridge, or some other ancient Chinese poems, you will have more fun during the stroll.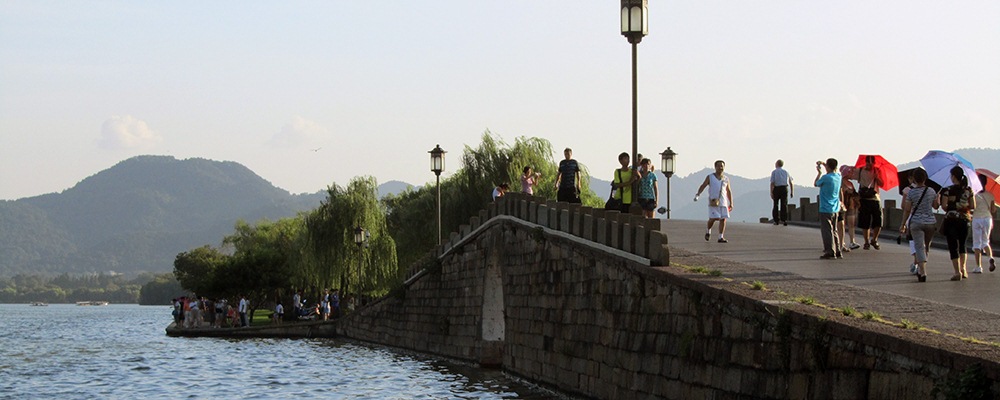 Duanqiao Bridge
Gushan Island (1.5 hours)
After around 15 minutes' walking from the Baidi dam, you will reach the Gushan Island. There is a 38-meter-high hill on the island. It is said the top of the hill offers the best terrace to admire the view of the West Lake. An ancient poet spent over 30 years on the island composing poems. He said the plum blossom was his wife and the cranes were his sons and daughters. In winter, countless tourists come to this island for snow view.
The Xiling Seal Art Society is a must-visit on the island. Hundreds of ancient seals, handcrafts, paintings and calligraphy masterworks are collected there.
Viewing Fish at Flower Harbor (one hour)
The Flower Harbor was a private garden of a government official in ancient time. Countless colorful fishes are living in the pool in the garden. Tourists are allowed to feed these fishes bread-crumbs or fish fodder.
Musical Fountain Show (15 minutes)
There are two 15-minute-long shows a day on the West Lake part near the Third Park of Hubing Road, respectively starts at 19:00 and 20:00. The tempo of the fountain changes as the tempo of music changes. The audience will feel like they are watching a dancing show.
Day Two – Soak up Hangzhou's Culture
Day one is for nature and day two is for culture. From Buddhism to local arts, you will see more charming aspects of Hangzhou.
Feilaifeng Peak and Lingyin Temple (2 hours)
Entrance Fee: 45 RMB for Feilaifeng Peak and 30 RMB for Lingyin Temple.
The Feilaifeng peak is located in the Lingyin temple. Thousands of statues of Buddha are distributed in the temple or on the peak. You can admire these statues or just enjoy the peace there even if you are not a Buddhist.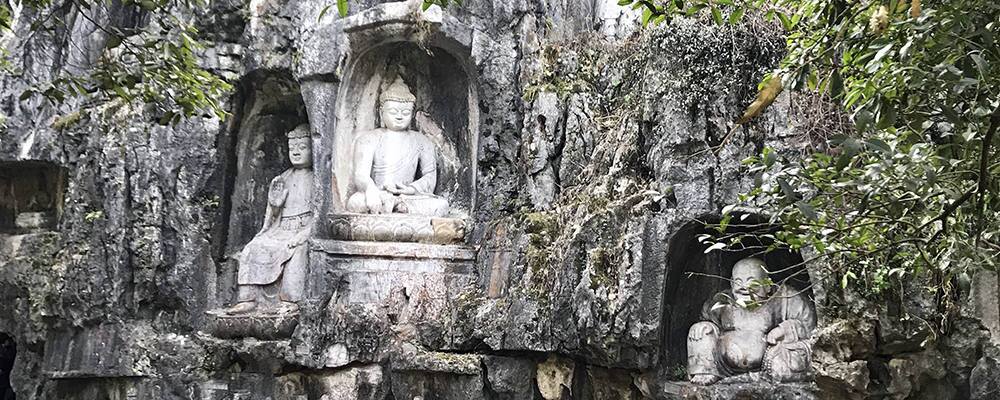 Buddhist Statues on the Feilai Peak
Hefang Street (1 hour)
Hangzhou was the capital of South Song dynasty (1127-1279 AD). The Hefang Street is built beside the ancient capital area. All the houses on the street are built in ancient style. Most of them are souvenir shops. Handcrafts, paintings, calligraphy works and wood carvings, all the souvenirs in these shops are related to the history and culture of Hangzhou. Delicious street foods can also be found.
What to Eat
We just recommend food here, because we believe the best local restaurants are always those hidden in small lanes. You can explore them on your own.
Fried Sour and Sweet Fish
This is a must-eat dish in Hanghzou, even if some of you may not like it. The fish is deeply fried and covered by local sour and sweet sauce. It is local people's favorite dish. Try it if you want to get closer to Hangzhou in spirit.
Dongpo Meat
Dongpo was the name of a famous ancient Chinese poet. He liked this dish very much, so the dish is called Dongpo meat. The pork is cut into a square. Half of the meat is lean and the half is fat. And then the meat is boiled with local yellow wine and sauce. These two flavorings make the meat much less oily!
Dingsheng Cake
Dingsheng means "sure to win" in Chinese language. Hangzhou was the capital of South Song dynasty, which was often invaded by Mongolian army at that time. In order to encourage their own army, people in Hangzhou made this dessert. Glutinous rice flour is the main element of the cake, so its color is white, but the red jujubes inlaid on the cake, which symbolize the victory, are the spirit of the cake.
Hangzhou Travel Tips
1. Sightseeing Battery Car - The West Lake area is very large. If you do not want to walk too much, you can take a sightseeing car, which costs you 10 RMB for one stop and 40 RMB for a round trip. You can ask a car to pick you up whenever you see it. Hiring a bike is also a good choice, but you need to bargain.
2. Qiantang River Tidal Bore – There is tidal bore on the Qiantang River around 120 days a year. Normally the first five days and the middle of a month are the tidal bore period. If you want to admire the spectacular natural phenomenon just go to the Qiantang River bridge of Hangzhou by bus 4, 287, 291, 318, 334, 354 or 504 and get off at Six Hamonies (Liuheta) Pagoda stop.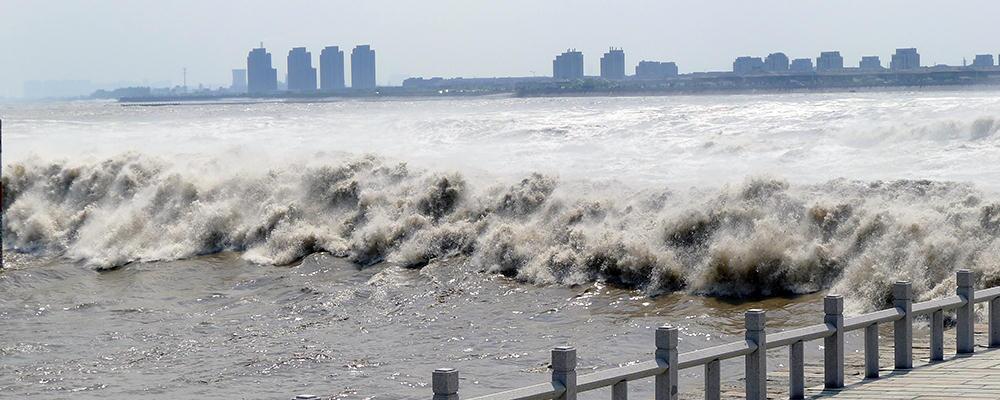 Qiantang River Tidal Bore
3. Souvenirs – The Longjing Tea, paper umbrella and silk are the most popular souvenirs in Hangzhou.
How to Get to Hangzhou
From Shanghai
Only one hour's high-speed train ride away from Shanghai, Hangzhou is one of the most ideal weekend destinations for people in Shanghai. There are around 140 high-speed trains steaming from Shanghai to Hangzhou every day. The earliest one departs at 6:00 and the last one departs at 21:30. No matter when you reached the Shanghai Hongqiao Station, you can hop on a high-speed train in less than 20 minutes.
From Beijing, Guangzhou or Shenzhen
If you are in one of these three cities, we suggest you travel to Hangzhou by air, because it takes a long time from these three cities to Hangzhou by high-speed train (6 hours from Beijing to Hangzhou, 7 hours from Guangzhou and 10 hours from Shenzhen). Furthermore, the air tickets are often cheaper than high-speed train tickets.