We believe you want to get the most authentic Shanghai experience, so the luxury restaurants are not your cup of tea, so we will introduce the top 10 authentic Shanghai local foods to you. These recommended can all be found the food streets on Yunnan South Road or Shouning Road. We suggest you plan your food tour in Shanghai based on these recommendations
Top 10 Shanghai Local Foods
Generally speaking, the local foods in Shanghai are sweet and bland. However, we recommended some deeply fried food below. Various cultures make Shanghai attractive, and various foods are a part of various cultures.
Pan-Fried Bun Stuffed with Pork or Beef
Almost every Shanghai local people will recommend this kind of bun for their friends from other places. The scallion and sesame are indispensable flavorings for the stuffing of the bun. When a bun's surface becomes crisp, the stuffing is also ready for eating. There will be flavorous sauce flowing into your mouth when you chew the bun. Normally the bun is stuffed with pork, however, lots of people believe it is more delicious if the stuffing is beef and cabbage. A beef-stuffed bun is much more expensive than a pork-stuffed one. The Pan-Fried Bun Stuffed with Pork or Beef has been popular in Shanghai for over a century.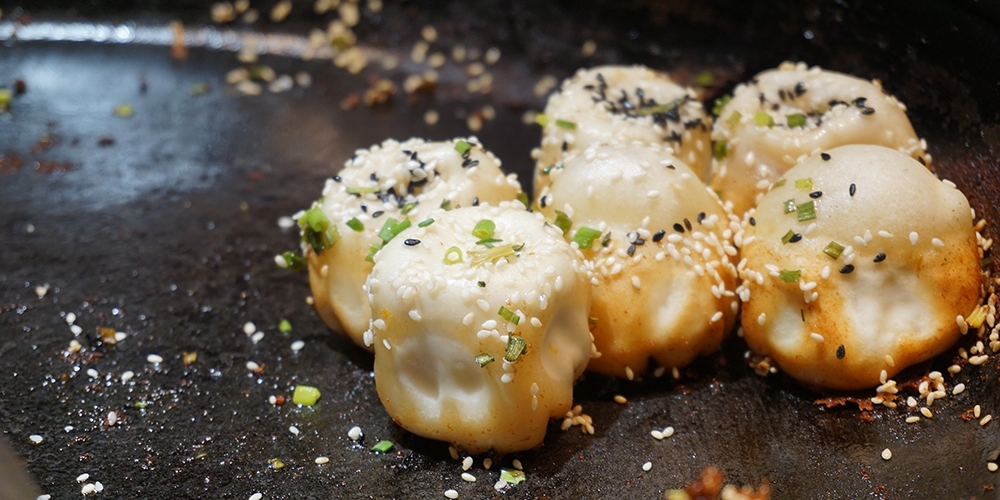 Shanghai Pan-Fried Bun Stuffed with Pork or Beef
Pork Ribs Rice Cake
The Pork Ribs Rice Cake is actually the fried pork ribs coated by the mix of wheat flour, water and eggs. It looks like rice cake, so it is called Pork Ribs Rice Cake. The tantalizing aroma of pork ribs and the crisp wheat flour surface make the Pork Ribs Rice Cake a delicacy.
Cold Fish Coated by Sauce
It is the most famous cold food in Shanghai. The fish is first fried deeply and then immersed into the sauce. The sauce consists of lemon juice, soy sauce, garlic, scallion, cooking wine, salt, sugar and vinegar.
Spring Roll
It is a must-eat dish during the Spring Festival. Pork, mushroom and bean sprout are wrapped by pastry. And then fry it deeply. When you eat a spring roll you can hear the sound of the crisp surface. Shanghai people believe it is lucky sound.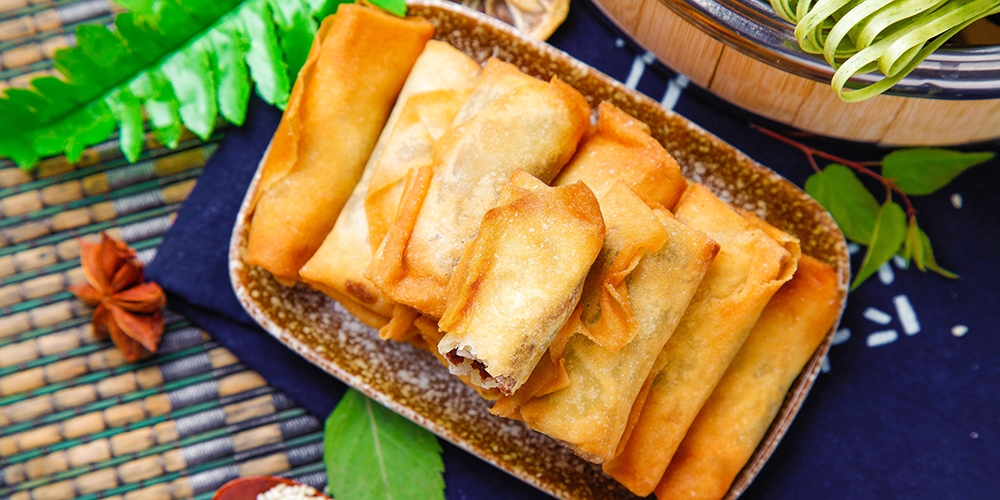 Spring Roll
Shanghai Bacon and Vegetable Steamed Rice
Both the bacon and vegetable are the local products of Shanghai. The bacon is very salty so there is not too many pieces bacon in the rice. The steamed rice is so common that every family can cook it by themselves.
Salty Soybean Milk
Normally, soybean milk is sweet and contains no other food. But the salty soybean milk in Shanghai is a mix of soybean milk, salt, fried dough stick and scallion. Normally, local people eat bun or other food and drink sweet soybean for breakfast. But if you choose this kind of salty soybean milk for breakfast, you do not need to eat other food.
Small Glutinous Dumplings Boiled with Sweet Rice Wine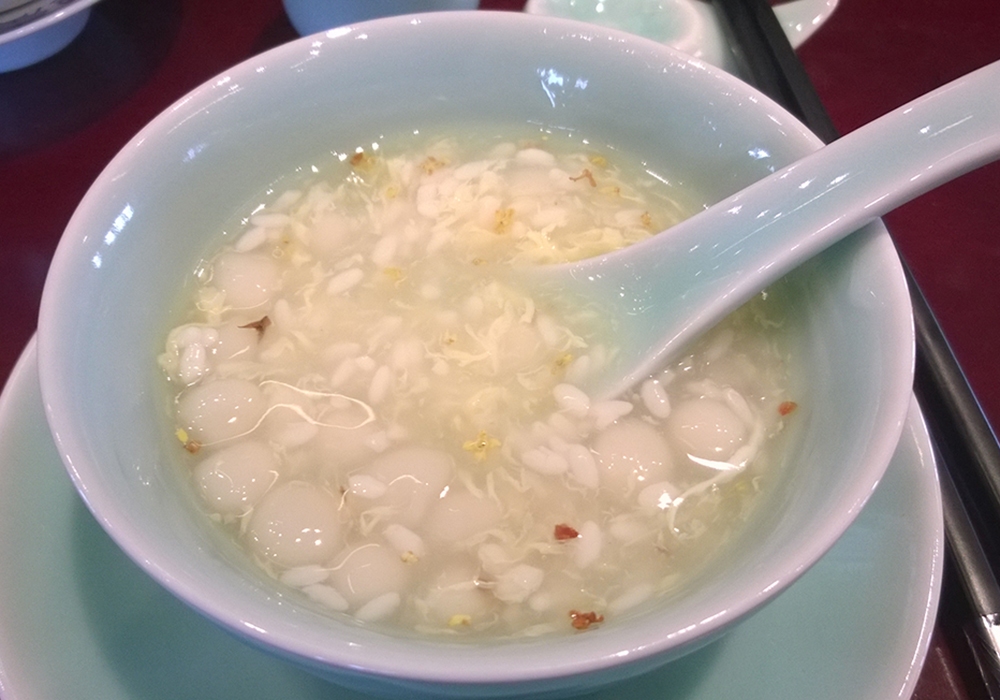 Small Glutinous Dumplings
The Glutinous dumplings are stuffed with dried fruit. The rice wine is sweet but will never make you drunk. The glutinous dumplings are the last dish for most dinners in Shanghai.
Spicy and Sour Soup
The elements for this soup are pork, bean curd, bamboo shoot, vinegar, sugar and pepper. So it is not only spicy and sour but also sweet.
Sticky Rice Roll
There are both salty and sweet sticky rice rolls. A sweet sticky rice roll is stuffed with fried dough stick and sugar. While a salty one is stuffed with fried dough stick, pickle and pork floss. The colors of a sticky rice roll can be red or white.
Shanghai Cold Noodles
The sauce is the key factor for delicious cold noodles. Soy sauce, scallion, vinegar and peanut butter are the basic factors for the sauce. Besides them, chicken, beef or other foods can also be added into the sauce.
Top 10 Food Streets in Shanghai
| Food Streets' Addresses | Subway Stop |
| --- | --- |
| Yunnan South Road | Dashishijie stop, Line 8 |
| Shouning Road | Dashishijie stop, Line 8; Laoximen stop, Line 10 |
| Huanghe Road | People's Square stop, Line 1, 2 and 8 |
| Zhapu Road | North Sichuan Road stop, Line 10 |
| Wujiang Road | West Nanjing Road stop, Line 2 |
| Changri Road | Chengshan Road stop, Line 8 |
| Tianyaoqiao Road | Xujiahui stop, Line 1 |
| Zhaozhou Road | Xintiandi stop, Line 10 |
| Xianxia Road | Shuicheng Road stop, Line 10 |
| Huaihai Road | South Shaanxi Road stop, Line 1 |
Join in our night street food tour to explore delicacy together!