Normally, tourists spend two days visiting Shaolin Temple in Dengfeng and the Longmen Grottoes in Luoyang. The Longmen Grottoes is a world heritage site listed by the UNESCO, so it is worth a visit. There is no airport or railway station in Dengfeng, so we suggest you go to Luoyang first. Usually, you need two days for this trip
How to Get to Luoyang?
If you plan to start the trip from Beijing or Shanghai, we suggest you go to Luoyang by high-speed train. It takes 5.5 hours to take a high-speed train from Shanghai to Luoyang, and 4.5 hours from Beijing to Luoyang. You will arrive in Luoyang before around 13:00 and can visit the Longmen Grottoes in the afternoon.
If you depart from Guangzhou, or Shenzhen or other places in south China, we suggest you fly to Zhengzhou, where you can take a high-speed train to Luoyang (one hour). If you choose an early flight (departs for Zhengzhou around 9:00), you can still arrive in Luoyang and visit the Longmen Grottoes on the same day.
Tour Plan for the First Day
When you arrive in Luoyang at the Luoyanglongmen Railway Station, we suggest you take a taxi to the Longmen Grottoes. It takes around 15 minutes and costs no more than 20 RMB for this 5-kilometer-long (3.1 miles) taxi ride. It costs only 1 RMB if you choose to take a bus, but you have to walk nearly 3 kilometers (1.8 miles) to reach the bus stop.
Longmen Grottoes
Ticket Price: 100 RMB
Open Hours:
8:00 - 18:00, February 1st to March 31st and October 1st to 8th;
8:00 – 18:30, April 1st to October 31st;
8:-17:00, November 1st to next January 31st.
With a history of over 1,500 years, the Longmen Grottoes are divided into the West and East Hills by the Yi River. Over 100,000 Buddha statues were carved on these two hills. Started in 493 AD and ended around 960 AD, it took over 500 years for the Longmen Grottoes to reach today's scale. The statues on the West Hill were carved earlier and more exquisitely than the ones on the East Hill. There is Peony Flower Festival in Longmen Grottoes area between April 1st and May 10th of every year.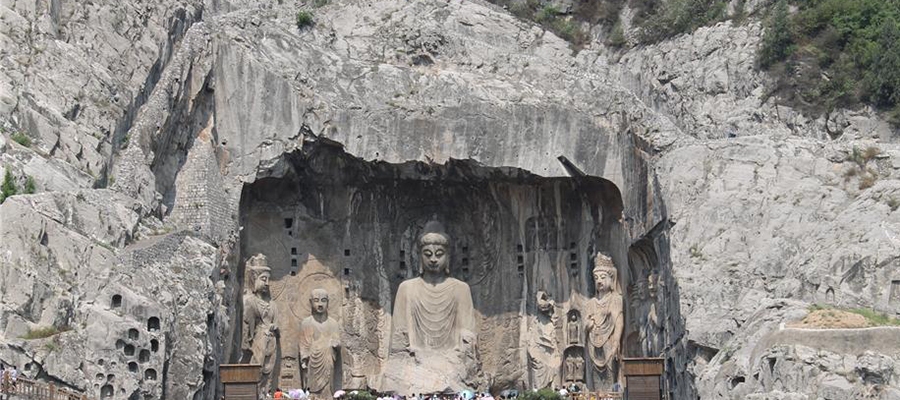 Longmen Grottoes
Luoyang Tips
Food – The noodles are Luoyang people's daily food. It is a good option for lunch.
Historical Attractions – Luoyang is a historical city. The Old City of Luoyang, Baima Temple and Luoyang Museum are recommended attractions. However, you need to spend one more day in Luoyang if you want to visit these attractions.
Tour Plan for the Second Day
Let's confirm transportation first.
For your trip to the Shaolin Temple, you need to take a bus from Luoyang to Shaolin Temple. Please check out the information about Luoyang Bus Station below. It takes around 2 hours to for this bus ride and costs 19 RMB.
Address: No.71, Daonan Road, Xigong District.
Telephone Number: 0379-63239453
Departure Time: Normally, there are 14 buses from Luoyang to Shaolin Temple every day between 5:30-12:30. Please call the station to get the exact timetable.
For your back trip, if you want to go back to Luoyang, you can take a bus at the tourist center of Shaolin Temple. The last bus to Luoyang departs at 18:00 and the price is also 19 RMB. You can also take bus from Shaolin Temple to Zhengzhou. It takes 2 hours and costs 30 RMB. The last bus to Zhengzhou departs at 17:30.
Shaolin Temple
Ticket Price: 100 RMB
Open Hours: 8:00 - 17:00
The Shaolin Temple is a Buddhist holy land where Chinese Kung Fu originated. So the Kung Fu and Buddhist culture are the reasons why thousands of tourists go to the Shaolin Temple. There are two Kung Fu shows included in the ticket price. One is outdoor and the other one is indoor. You will feel the power and spirit of Kung Fu from these two shows. The best way to learn about the Buddhist culture is reading Buddhist scriptures, but it is obviously difficult for anyone to understand these scriptures, so most tourists will visit the Pagoda Forests, the cemetery for 232 ancient eminent monks who practiced in the Shaolin Temple between Tang and Qing dynasties (618-1911 AD). Every pagoda is the outside part of the tomb of a monk. The higher the pagoda is, the more eminent the monk was. The shapes of these pagodas and the carvings on these pagodas are exquisite artworks.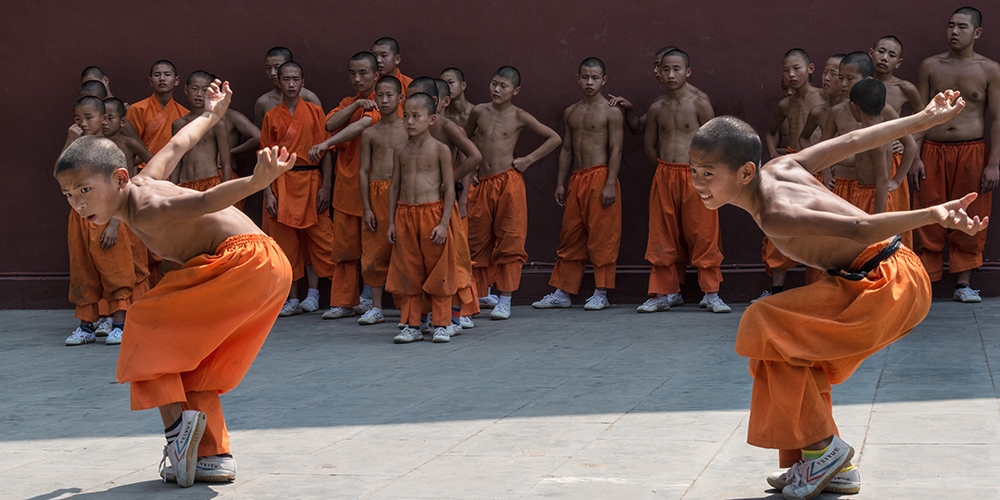 Shaolin Kung Fu
Although most Buddhist monks are vegetarians, you can still order meat in the restaurants around the Shaolin Temple.
Learn about Kung Fu in the Shaolin Temple and Buddhism at the Longmen Grottoes by joining our 2-day Kung Fu Tour.