It is fortunate for Shanghai people that it takes only around 4 hours to reach the Yellow Mountain by high-speed train from Shanghai. Almost all the activities on a mountain are available on the Yellow Mountain, such as admiring sunrise, sunset, animals, plants, sea of cloud and waterfalls, hiking, and hot spring bath. Besides the mountain activities, the Hong Village and Tuxni, respectively 35 kilometers and 55 kilometers away from the Yellow Mountain, are also worth visits for their profound cultural atmosphere.
Top Activities on the Yellow Mountain
Although there are many activities available on the Yellow Mountain, if you don't manage to find the right time or place for these activities, experience can be totally different.
The spring on the Yellow Mountain is between March and May; Summer is between June and August; Autumn is between September and November; Winter is between December and February.
Sunrise
Best places to see it: Qingliang Terrace, Shuguang Pavilion, Lion Peak, Shixin Peak, Danxia Peak, Aoyu Peak, Yuping Tower.
Best time to see it: Spring and Winter: 5:30 to 6:00 am; Summer: 4:40 to 5:10 am; Autumn: 4:50 to 6:20 am.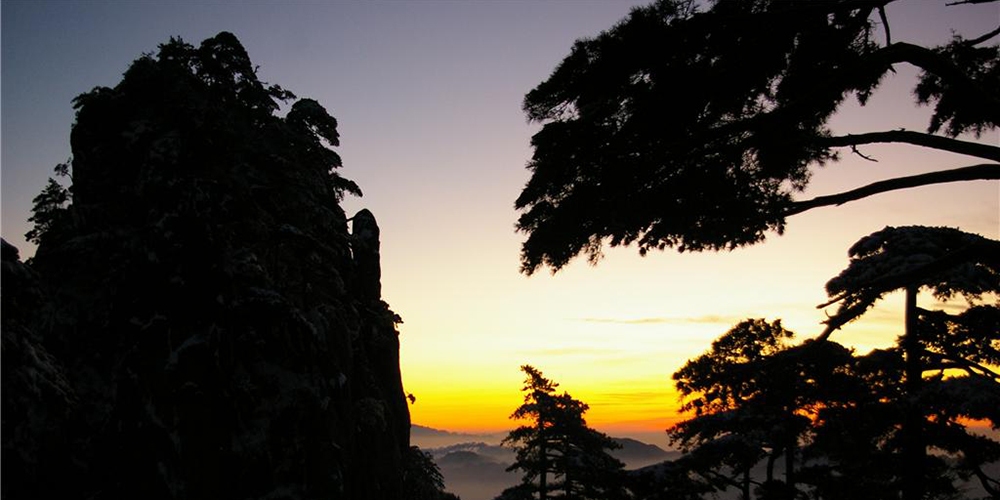 Yellow Mountain Sunrise
Sunset
Best places to see it: Paiyun Pavilion, Danxia Pavilion, Feilai Rock, Guangming Peak and Lion Peak.
Best time to see it: Spring and summer: 18:00 to 19:00; Autumn and Winter: 17:00 to 17:30.
Sea of Cloud
Best places to see it: Yuping Pavilion, Qingliang Terrace, Baie Peak and Guangming Peak.
Best time to see it: November to next May. It is more likely to see it after snow or rain.
Hiking
Best route:
Yungu Temple cable car station→cable car ride→Beihai Scenic Area→hiking→Paiyun Pavilion→hiking→North entrance of Xihai Grand Canyon→hiking→First Ring of Xihai Grand Canyon→hiking→Second Ring→hiking→Cable car station at the bottom of Xihai Grand Canyon→cable car ride→Tianhai Scenic Area→hiking→Aoyu Peak→hiking→Yingke Pine Tree→cable car ride to the foot of the Yellow Mountain
It takes around 6 to 8 hours to finish this route. If you want more challenge, just change some cable car rides to hiking. If you there is heavy snow and rain, the hiking on the Yellow Mountain is not recommended.
Hot Spring Bath
The Piaoxue Hot Spring Bathing Place is the only pure natural hot spring on the Yellow Mountain. Winter is the best time to take a hot spring bath, especially when it is snowing, you can admire snow view in a hot spring pool.
Hong Village
With a history of 900 years, Hong Village is renowned for its ancient houses. The black roof and white wall of these houses are the essence of ancient relics in China. If you have enough time to spend a night in the village, we suggest you take stroll around 18:00 or 7:00, because there will be less tourists and you will see an even more beautiful village. In 2000, the Hong Village was listed as a world heritage by UNESCO. Besides architecture, the flowers are also highlights in the Hong Village. March and April are the best time to admire peach blossom, while October and November are the blooming period for chrysanthemum. Maple leaves also turn red around October.
Tunxi Old Street
Built in the Song dynasty (960-1279 AD), the Tungxi Old Street is the earliest pedestrian street in the history of China. You can both admire the architecture and buy souvenirs on the old street. Chinese writing brushes and tea are popular gift for your friends or family.
What to Eat in Huangshan
Firstly, you need know that the Yellow Mountain, Hong Village and Tunxi Old Street are parts of Huangshan City. So the food on the Yellow Mountain, in the Hong Village and on the Tungxi Old Street should be described as Huangshan Food.
Fried Tofu – The skin of the fried tofu in Huangshan is crisp, but the inside part are soft and tender. There are some small hairs on the skin of tofu. Don't be scared. It is absolutely harmless.
Stinky Fried Fish – The sauce makes the fried fish a little stinky, but just like stinky tofu. It is delicious despite its odor.