Hangzhou Tours
Hangzhou is a pearl in the South Yangtze River Area. The West Lake, Wuzhen and tea are three most twinkling parts on the pearl. You will find the perfect blend of the three essences in our tour packages, which include the history, culture and landscapes highlights of Hangzhou and South Yangtze River Area.
Guide Map for Suzhou and The Transportation
Check out the positions of major tourist attractions in Hangzhou and the time from Hanghzou to its neighbors, such as Suzhou, Huangshan, Shanghai and Wuzhen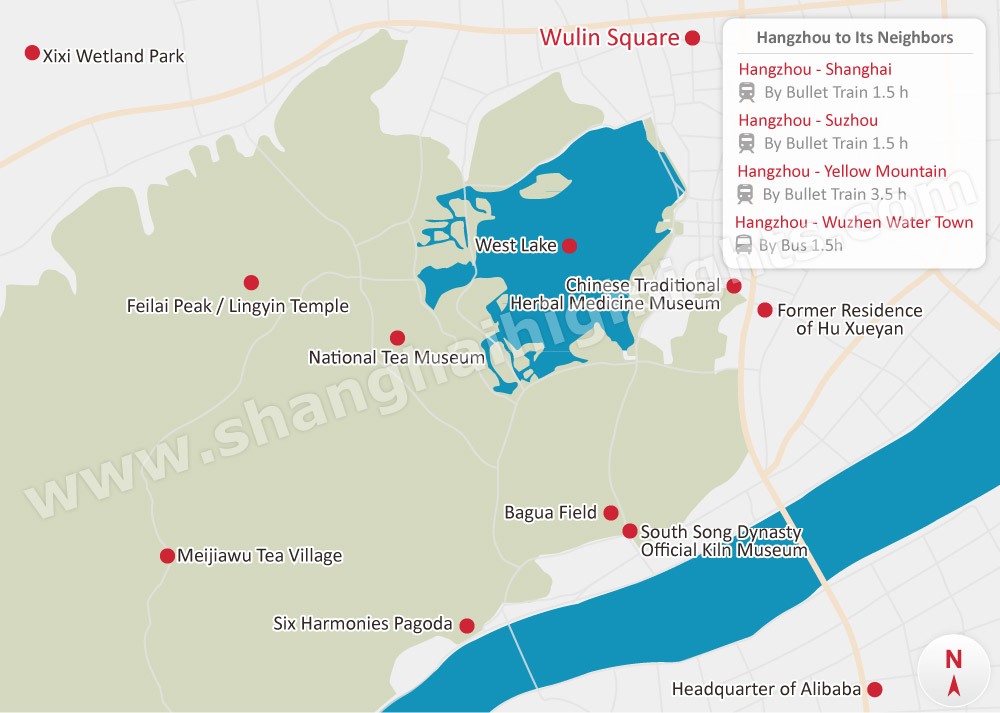 Most Asked Questions by Travelers
How long is enough to visit the West Lake?
2.5 hours is enough to cover the highlights of the West Lake. However, if you want a deep exploration to fully understand the essence of the scenic area, one whole day is necessary.
Which water town is the best near Hangzhou?
Wuzhen is absolutely the best extension to your Hangzhou tour. Hangzhou is only the cover of the cultural book of the South Yangtze River area, while Wuzhen is the core content.
Where to buy silk products in Hangzhou?
We recommend the silk market on the Fengqi Road. The silk clothes, scarves, neckties and crafts there are reputable. Remember to bargain, and you can get discount, more or less.
Is it possible to visit the headquarters of Alibaba?
You can at least enter the lobby, but if you want to go deeper, you have to know someone who is working for Alibaba. The e-commerce giant often invites other entrepreneurs to visit its headquarters. If you are running your own business, you can try to call them to grant you a visit. If your business is interesting enough, they will invite you.
How to go to Shanghai, Suzhou or Huangshan from Hangzhou?
The most convenient way is to take a bullet train at the Hangzhou East Railway Station. Check out the map above to see how much time it costs to take a bullet train.