Zhouzhuang Water Town Tours
Zhouzhuang lies at the middle between Shanghai and Suzhou, is an ancient town of Kunshan city, Jiangsu province, where abounds with rivers and lakes. It is thought by many to be the best water town in China. This ancient town has a history of more than 900 years old with many houses built in the Ming and Qing Dynasties. There are about 100 houses with courtyards and 60 of them have arch gateways made by carved bricks.
With lakes on four sides, the beauty of Zhouzhuang is specially to be found along the waterside lanes and around a number of the stone bridges. A different vista at every turn can be found here. All those make a visit most enjoyable. also, one can enjoy the fairyland atmosphere of the evenings here when the myriad stars twinkle as though in communication with the glittering lights.
Highlights in Zhouzhuang Water Town
Zhouzhuang itself with its quiet waterways and relaxed atmosphere is an attraction in itself, there are several particularly interesting places to visit. Most of these attractions are accessible by boat or walking, and a vigorous visitor can realistically see them all in one day. The major attraction of the town is the atmosphere and the view, and something you shouldn't miss from catching a view from afar is Nanhu Lake. It's called the Pearl of Zhouzhuang for a reason. The lotus-shaped Quanfu Temple is located in the middle, and the view of its pavilions and palaces from the shore has been described as "sublime".
Twin Bridges
The attraction that sets the standard for the town is or are the twin bridges. Not exactly twins, because one, Shide, was first built in 1573 while the other, Yong'an, wasn't completed until after 1619. However, both bridges cross just above the confluence of the rivers Yinzi and Nanbei and land on the same corner. Viewed from downstream, the combination of the round arch that makes up Shide Bridge and the square arched Yong'an makes the two bridges look like an ancient key. From there, they are also called "Key Bridge". The bridge or bridges became the face of the town after they were immortalized in Chen Yifei's painting, Memory of My Hometown, which was shown in New York and eventually featured by the UN. Eventually it became a good-will present to then Chinese premier Deng Xiaoping.
Fu'an Bridge
With 19 stone bridges throughout Zhouzhuang, Fu'an stands out on account of its Yuan Dynasty heritage. First built in 1355, it has been restored and rebuilt several times, the last being in 1855 when granite stairs and ornate engravings were added in the style of the Qing Dynasty. The name means "Abundant Peace", and is particularly picturesque because it's built between two buildings that extend almost to the water surface. It's especially charming to see from a boat below.
Zhang Residence
Not as impressive in size as the Shen Residence, the competing Zhang residence is much older, and one of the few remaining Ming Dynasty buildings. It's just south of the famous Twin Bridges. Originally built by a relative of one of the Ming founders, it was later sold to the Zhang family, and hence its current name. Now it's owned by the local government, and has been meticulously restored. It has a sprawling area of 70 rooms, and is unique on account of the Ming-style columns that make up its construction. It also has a free-flowing riverthrough the complex , which allows boats through.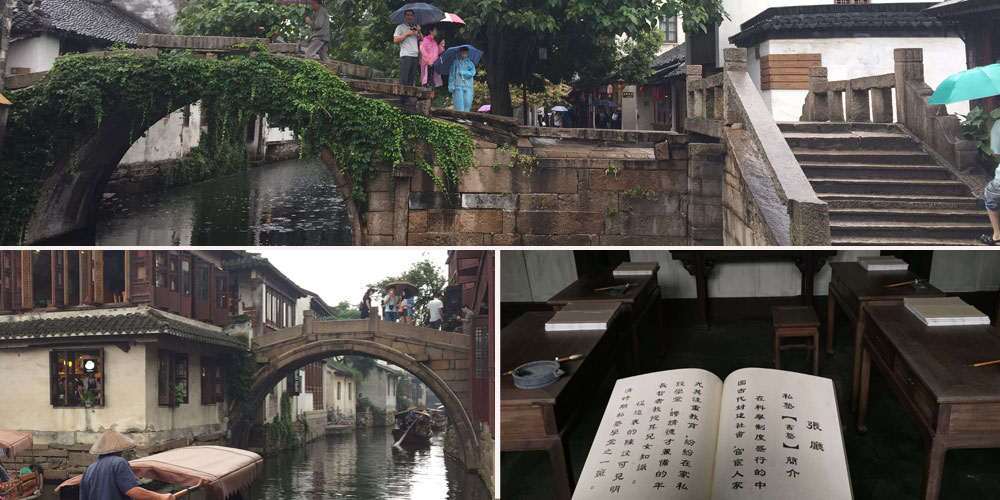 Twins Bridge (top), Fu'an Bridge (bottom left) and Zhang Residence (bottom right)
Shen Residence
Built in an aristocratic style during the early Qing Dynasty, this sprawling palace covers almost 2,000 m2 (21,500sqft) and is the biggest residence in the town. It is made up of over 100 rooms surrounding seven courtyards, and is divided into three sections: The water gate and warf; the Tea and Main Halls which were for receiving guests and conducting important ceremonies; and the living quarters. They are open to the public now.
Construction on the residence began in 1742 over a smaller complex inherited by Shen Benren. At first considered a typical playboy wealthy heir, Benren made a complete about-face upon is father's death and dedicated himself to expanding the family business. His home is a reflection of his business work. Benren was a descendent of another famous local entrepreneur, Shen Wanshen, who contributed significantly to the town's heritage.
Chengxu Daoist Temple
Located near the Quanfu Temple, this Daoist (Taoist) temple also dates back to the Yuanyou Period (1086-1093) of the Song Dynasty. It was expanded during the Ming and Quing Dynasties with donations from local wealthy traders and merchants until it became one of the largest in Jiangsu. The temple has three main buildings in a wonderful garden, and is surrounded by futher pavilions. It is still an active place of worship and during the 22nd and 23rd days of the sixth month in the Chinese lunar calendar, there is a large celebration at the temple with traditional activities, customs and wardrobes.
Best Times in Zhouzhuang
Weekdays
Due to the mild climate of Zhouzhuang, it is worth to visit the water town all the year around. However, it is sensible to avoid national holiday, otherwise you can't enjoy the peace of the water town.
Mornings and Dusks
If you plan to stay in Zhouzhuang for one night or two, make sure you have enough time to admire the sunrise and sunset in Zhouzhuang. The most authentic beauty of ancient water towns can only be found during the quietest time.
Food
As center of commerce or thousands of years, Zhouzhuang has incorporated into its culture and heritage a large number of elements from surrounding areas and even cities farther afield. This is reflected in the local cuisine which is as diverse as it is flavorful. Traditional Chinese dishes are mixed with an abundance of herbs and techniques to make a wonderful culinary experience. Traditional cuisine is as important as the architecture when considering visiting Zhouzhuang.
Fish
As you might expect of a water town, fish plays a very important role in local cuisine. Two local delicacies are Bayu and Bangbi.
Barbel (Bayu in pinyin) is a local specialty, and it's also a way to understand the language and customs. The fish itself is shaped like a palm leaf, which in pinyin is "Bazhang". Pinyin is the simplified form of writing Chinese. Bayu and Bazhang have a homophone Ba in Chinese, which gives them a special connection. Bayu is a carnivorous fish, and is relatively expensive, so it's sold in small quantities as a delicacy. It's in intrinsic part of folklore, which even has a saying, "One Barbel, two cooking styles". This is because when preparing the fish, the gills are removed and boiled into a soup, while the meat is brazed in soy sauce. Typically the fish is eaten with rice.
Another fish delicacy of the region are Bangbi. They are called "white streaks in the wave" because they swim really fast. They are also timid and hard to catch. The fish are very nutritious and popular among locals, and is typically served fried. It is a very tender fish, and when prepared properly is as transparent as a piece of jade.
Wansan "Eight Bowls" (Homemade)
This dish is considered a delicacy and is famous throughout the region as a Zhouzhuang specialty.
According to the story, Wansan was created by the legendary Zhouzhuang native Shen Wansan (ancestor to the builder of the Shen House). Wansan was the richest man in the Yangtze River area during the Yuan Dynasty (1271-1368), and was designed to be a special treat to his friends, loyal collaborators and guests of honor. At the fall of the Yuan Dynasty, the meal was served t the first emperor of the Ming Dynasty.
Try this meal and literally eat like an emperor. It's made of the freshest ingredients to meet exacting standards, both in appearance and taste. It's an eight-course meal including soy-stewed pork, stewed eggs, chicken and stuffing, and wheat dumpling soup. The stewed pork by itself is a delicacy discussed below. The dish is served in eight celadon bowls, and hence the name.
San Wei Yuan
Also commonly known as Tan Mian Jin, are special rice dumplings cooked in a gluten shell. Gluten is a very fine wheat flour that is used in Chinese cuisine. The dumplings are filled with chicken, fresh shrimp, or pork, and flavored with shallots, ginger and rice wine (not to be confused with sake which is a Japanese liqueur). Then they are cooked in chicken soup giving them a tender crystal appearance. They mesh with desserts and soups.
Wansan Pork Shank
This is another dish attributed to Shen Wansan, and a constituent of the "Eight Bowls" discussed earlier. By itself, it's an integral part of local custom and heritage, and is served as a treat for distinguished guests. The meal symbolizes reunion, and has become symbolic over centuries of cultural significance. Typically it's the main course at festivals and weddings in Zhouzhuang.
It's prepared with specially selected marbled ham (pork hock or shank), and is steamed in a large casserole for a whole day with ingredients depending on the tradition of the maker. By itself, it is served as a whole leg for everyone at the table, unlike with the Eight bowls, where it's served individually.
There are other delectable culinary delicacies that you shouldn't miss while in Zhouzhuang, such as Chengyao cake (made from rice, nuts and honey); wine pickeld shrimp, October liqueur and smoked green peas (yes, it's exactly like it sounds, and it's delicious).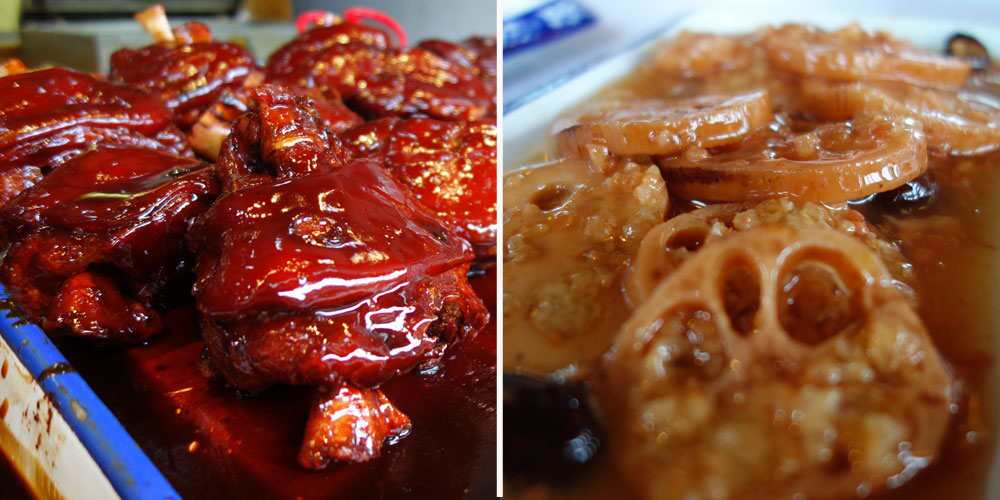 Pork Shank and Lotus Root Combo
Shopping
Zhouzhuang shopping includes both traditional handicrafts, local specialties as well as modern commodities. You will find some surprisingly quaint and beautiful things here.
Handicrafts
Zhouzhuang has a long history of art, and traditional handicrafts. The most well-known is probably the unique style of bamboo weaving. It's very popular among tourists who marvel at the exquisite craftsmanship. They are made with thin strips of bamboo using techniques that date from the Qing Dynasty to make baskets, plaques, couches, barrels and other household items.
Another way that Zhouzhuan show off their dexterity is with wood carving. You can actually watch the carvers at work, making very intricate designs; and purchase their work as soon as it's done.
Local Products and specialties
Wansan Brand Wine and Liquor: Wine – making industry in Zhouzhuang is very flourishing as the paddy area around teems with rice. Wansan brand liquor or spirit is the best of the wines.
Wansan Pig's Upper Leg: It is famous dish promoted as the no.1 course among all the dishes in Zhouzhuang. the pork of leg is chosen from among the best as the material and stewed in brown source over slow fire. the cooked pork is very tender and easily boned. though, it looks fat, yet not greasy. it suits to the taste of all different people.
Xiangjiang (white clam river) Aquatic Products: Aquatic products in Zhouzhuang are available all the year round and the bests of them are perches, white clams and fresh – water white baits, which have long been known as the three treasures of Xiangjiang. In addition, the water area is teemed with eels, soft – shell turtles and shrimps and so and so forth.
Wandering the walkways and waterways, you'll come across other phenomenal examples of local craftsmanship and specialties.
Getting to Zhouzhuang from Shanghai
The bus from Shanghai to Zhouzhuang takes about 2 hours and leave from three places in Shanghai. Some options are better than others.
Shanghai Stadium
The best option is from Shanghai Stadium where designated buses leave in the morning and come back in the afternoon, allowing you a while day in the town. With four frequencies leaving at 0800,0900 and 0930 and two returning at 16:00 and 16:30, the trip takes an hour and a half. The trip costs 150 yuan includes the admission fee to the town.Be sure to check the timetables and ticket fee before you go, because they may change.
Visitors can go to 209, Zhongshan South Er Road, Shanghai (中国上海市中山南二路2409号) and buy the ticket. The staff there can speak English and it is recommended to buy the ticket at least one day earlier before departing. It is not guaranteed to get the ticket on the departure date. Office number is 021-24095555.
Hongkou Football Court
Hongkou Football Court is the next best option, with two buses leaving at 8:00 and 10:00 AM and returning at 15:00 and 17:30. The trip is closer to two hours, and costs 128 Yuan, but this also includes the admission fee and tour guide.
It's also possible to get buses from the station north of the Shanghai Railway Station. Here the trip costs 22 Yuan, but doesn't include the admission fee. There are few departures, so this option is not recommended.