Shanghai is situated at 31°41' north latitude and 121°29' east longitude. The city, whose name literally means "on the sea", is located on the east China coast just to the south of the mouth of the Yangtze river. Bordering on Jiangsu and Zhejiang provinces on the west, Shanghai is washed by the East China Sea on the east and Hangzhou Bay on the south. it also occupies a central location along China's coastline. Thanks to its advantageous geographic location, Shanghai is an excellent sea and river port, boasting easy access to the vast hinterland.
Natural Resource
Shanghai storage and production of coal, oil and water; energy required depends on the support of the other provinces and cities. However, Shanghai has a certain quantity and high quality of "secondary energy" production; the main products are electricity, oil, oil products, coal and gas (including liquefied petroleum gas). Others can take advantage of development of energy and biogas, wind energy, tidal and solar power.
Shanghai neighboring with the East China Sea, is rich in fishery resources, according to statistics, there are various fish of 108, economic fish over more than 20 of them in Shanghai. In addition, Shanghai is located in the mouth of Yangtze River, the River is wide and intersection of sea and fresh water, as well as natural lakes rivers, abundant of snails and oyster are span on the river bottom, it provides a good conditions for freshwater aquaculture.
Shanghai Developments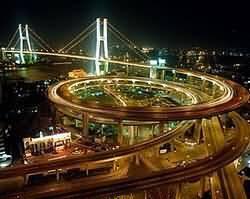 The bridges connected Pudong and Puxi marks the development of construction process and also creative a foundation for common prosperity for both sides of the Huangpu River. In 1971, Songpu Bridge was completed, it rewriting the history of no bridge on Huangpu River before, on December 1st, 1991, the second bridge - Nanpu Bridge was open to the public, in October 1993, the Yangpu bridge was completed, until now, there are 6 bridges was build crossing over Huangpu River. While in September 1970, Dapulu Tunnel is completed, the development of river channels makes significant changes of the financial trade zone-Lujiazui which is located n the city center. In November 1994, the Oriental Pearl TV Tower was completed, on March 18, 1999, Jin Mao Tower officially open for business. In 2008, China's tallest building-Shanghai World Financial center was opened for public. The same year, the Central Building is under planning, it is expected to become the new tallest building in China.
In 2010, the World Expo was opened in Shanghai. In addition, there are different kinds of exhibition held in Shanghai every year. Exhibition industry is become one of an important industry in Shanghai. In the Map of China which publish in 1949, Shanghai area occupies for 636 square kilometers. In 1958, 10 cities in Jiangsu Province: Jiading, Baoshan, Songjiang, Jinshan, Nanhui, Fengxian, Qingpu, Chuansha, and Chongming are classify as Shanghai, Shanghai municipal districts range up to 5,910 square kilometers. To the end of 2003, Shanghai area is up to 6340.5 square kilometers. The three island of Chongming, Changxing and Hengsha is all jurisdictions by Shanghai, Chongming Island, which covers more than 1000 square kilometers, is now regarding as the third largest island in China.
Shipping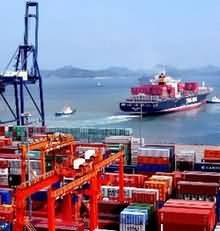 Shanghai Port has develop to 16 international container liner routes; the container shipping number has reached to 1,967 per month, of which 942 are international ships.
International Ocean Routes: the ships from Shanghai port will be arrival in Hong Kong, Taiwan, Korea, Japan, Asia Countries, Australia, Israel and the Eastern Mediterranean, North West Europe, South Africa, South America, and West Coast of United States.
Coastal Route: Can be reach to the major ports along the coast in the city from North;
Yangtze River Route: can reach the river ports of middle and down stream of Yangtze River.
River Trade Routes: Can be reach to the river ports of eastern part of costal cities by Jiangnan water network.