Shanghai is one of China's most iconic cities. The former open port has received influences from many different cultures, and is now an ex-pat, artistic, culinary, fashion, and cultural mecca.
Theme parks, quaint nearby villages, and ancient - as well as modern - historical sites can all be found in and around Shanghai.
With so much to do in Zhejiang (from wandering the metropolises to the verdant hills and mountains), it's hard to figure out what places are most worth a visit.
The following list is designed to help visitors and locals alike find the best of what Shanghai offers.
Outside of Suzhou, Tongli Water Village is a well-preserved water town, over 1000 years old, that is defined by its prolific historical and cultural achievements. The town itself takes up 63 square kilometers and houses 33,000 people, and is made of 7 islands connected by bridges. From ancient times, Tongli has been favored by poets, scholars, painters, and government officials.
Bridges
49 stone bridges join the 7 isles, 15 rivers, and 5 lakes that make up Tongli. The Bridges were built in medieval times; the oldest was built during the Song Dynasty (960-1279). These structures vary from simple stone arch walkways to elevated crossings (for boats to traverse beneath) with eaved roofs.
Houses
Tongli stands out due to it's preserved houses as well. Dating from the Ming and Qing Dynasties, these houses have elegantly carved windows, signature flying eaves, gardens, and stairs leading down to the waterways.
How to Get There:
From Shanghai, the only way to get directly to Tongli is by Bus. Tourist buses can be taken from the General Station of the Shanghai Tour Bus Center, or the Shanghai Tour Bus Hongkou branch. Buses from both of these locations go directly to Tongli, and take approximately 2-3 hours. Tourists can get there by taking metro line 2 to Lujiazui Station. Exit 1 is the closest to The Pearl.
Tongli Water Town
There is nothing more iconic in Shanghai than the Pearl. The Bund, The Pearl, and the Skyline that go with it are the definitive must-sees for any visitor to Shanghai.
The Bund
The Bund, or Waitan, is a waterfront area in central Shanghai. This area is known for its large colonial style stone buildings housing upscale shopping, hotels, bars, and restaurants.
The iconic old buildings were once trading houses for various nations and consulates- as Shanghai was one of the only open ports in imperial China. In the 1970s and 1980s, during economic reform, the Bund area gradually returned to its former use.
The most iconic image from the Bund is the view of the skyscrapers across the river. Sitting on an open rooftop bar, watching the sun disappear behind the skyline and the city lights turn on is an experience like no other.
If there's any part of the Shanghai skyline to sea, it's The Pearl. This iconic building is the Symbol of Shanghai.
468 meters high, tt was the tallest tower in China from 1994 to 2007. Visitors can look down on the city from one of 15 observatory levels- the highest at 351 meters with an outside observation area. The tower also contains a shopping center, and a revolving restaurant at 267 meters If a tourist is having one picture taken in Shanghai, it better be in front of this building, or on top of it.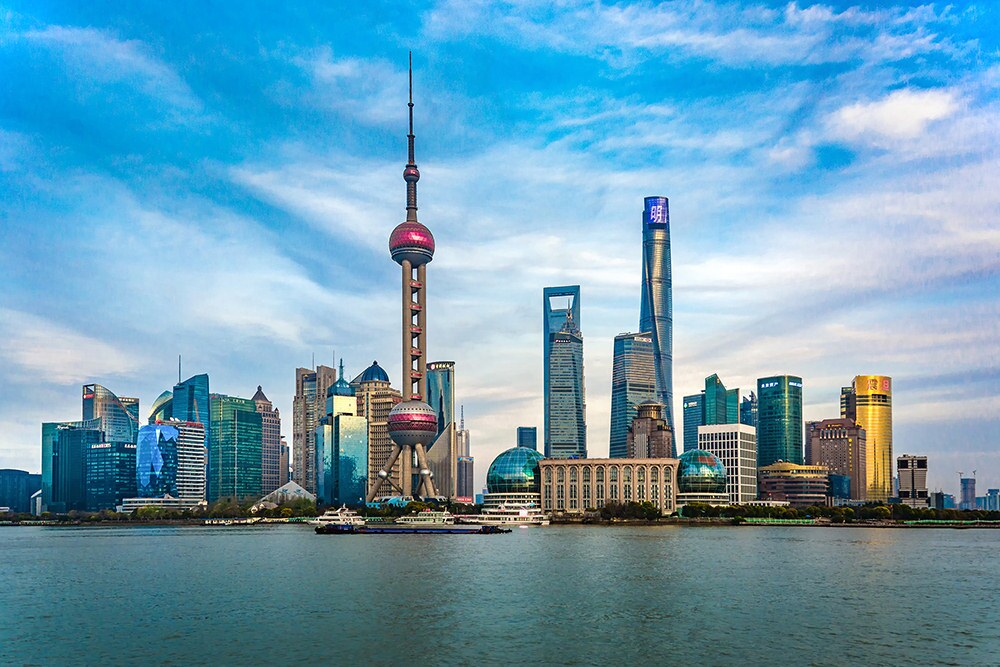 The Bund with the Oriental Pearl Tower
For a break from the hustle and bustle of the modern city, visitors check out the French Quarter, a relaxed, European-style old town.
Walking through this quarter is a trip through the last 150 years. Cafes, villas, and shops galore can all be found here.
History
Started in 1849, the French Quarter became the richest residential area in Shanghai. In 1943, the Chinese government officially took over the area, ending nearly 100 years as a foreign concession. There are no clear borders of this area, but it is right in the heart of Shanghai, almost in the city's center.
Xintiandi
Tourists and Shanghainese alike flock here for glitzy, high-end entertainment, bars, clubs, boutiques and restaurants. Located in the former French Concession, this area features European colonial architecture, stone brick buildings, with plazas and narrow streets.
Visitors can find both upscale dining and drinking establishments, as well a more laid-back places to relax outside and enjoy watching the city buzz around them. Late night street food, Western, and Chinese cuisine are all available at Xintiandi.
Tianzifang
Also known as Taikang Road, these former residences are now artsy boutiques, shops, bars, craft shops, and design studios.
The legacy houses that make up Tianzifang are known as Shikumen. Shikumen means "stone doors" and is characterized by housing with stone doorframes and solid wooden doors. Besides the Shikumen, there are French buildings from the 1920s and 1930s. Sailors, doctors, artists, and white collar workers used to lived in this bohemian community. Many original residents still live here.
Now it's not just a boutique art area, but is a frontier of Chinese artistic expression and creativity. Tianzifang's artistry and attitude also serve to protect and maintain Shanghai's cultural heritage.
How to Get There:
Take metro line 8 or 10 to Laoximen (老西门) metro station and walk northwest for a few minutes. Xintiandi and Tianzifang are within the French Quarter.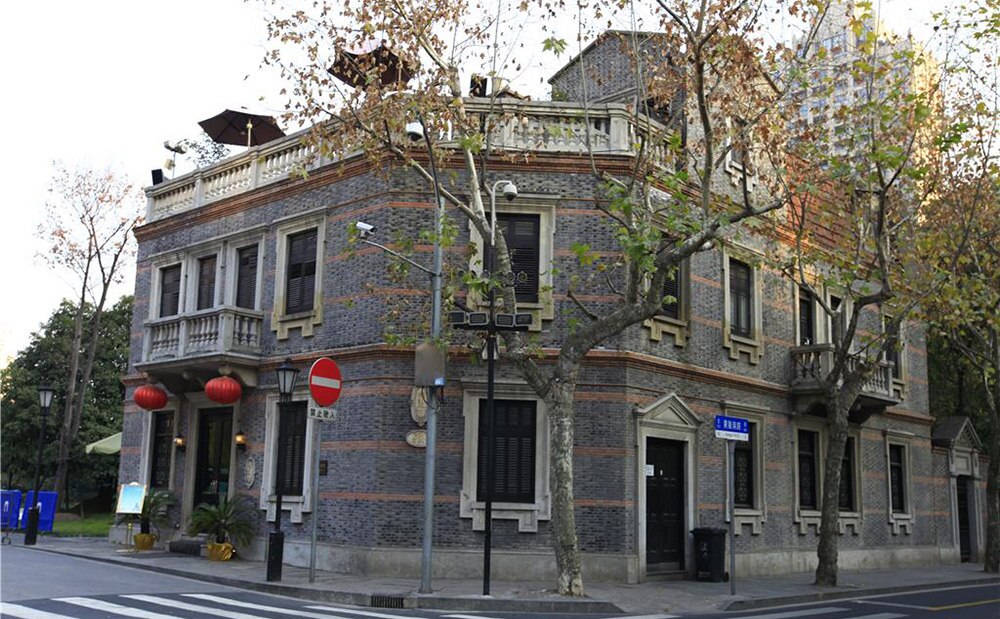 A House in Xintiandi
Hangzhou is a beautiful university city. Stroll or cycle down it's long tree-lined boulevards, check out the coffee shops and book stores in a university district, or get lost in the park in the famous West Lake district. Hangzhou also offers Western food restaurants and bars, with a few night-life hot spots and clubs.
Nature-oriented visitors can take a boat on the lake and city waterways. They can also visit the nearby mountainous terraced fields, which are presently sprouting wind turbines. Hikers can visit Moganshan (Mogan Mountain) and the Laushulin (Old Forest), which are only about 90 minutes from Hangzhou.
Travelers with an interest in history can see Song Dynasty historical constructions, like Imperial Street and 8 Diagram Field.
Hangzhou's laid-back atmosphere, small-city vibe, and plentiful things to do make it a great place to visit to get away from the big city without getting bored.
How to Get There
Hangzhou is easy to get to from Shanghai. The high-speed train takes about 1 hour, and the standard train takes about 2.
Hongqiao Railway Station to Hangzhou East
From Shanghai Hongqiao Railway Station, trains leave for Hangzhou East Railway Station from 06:00 am to 21:30, at an interval of 5-15 minutes.
Shanghai South to Hangzhou Railway Station
Trains leave Shanghai South Railway Station for Hangzhou Railway Station starting at 04:20 and ending at 20:40.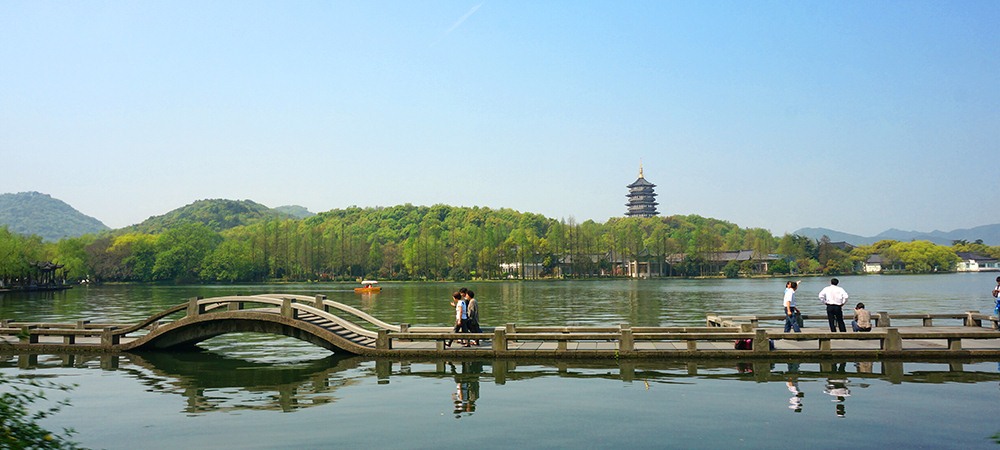 West Lake
This major city, about 100 kilometers northwest of Shanghai, is a major center of trade and commerce, is the 2nd largest city in Jiangsu province, the first being Nanjing, the provincial capital.
History
Suzhou is a sort of, behind-the-scenes important city in world history. Most travelers in China have never heard of it before visiting China or even Jiangsu.
Suzhou's long history begins in 514 BC, when it was first founded. By the 2nd century AD, it became one of the largest cities on Earth, It has been an economic, commercial, and cultural capital of China since the 10th century, and has remained one of the world's largest cities- with 10.6 million people today. It still maintains it's economic and commercial power- having some of the highest economic growth (over 14% increase in GDP) since economic reform began in 1978. Now it is one of the most developed and prosperous cities in China.
Suzhou now has the kind of modern accommodation and restaurants that can fit any budget or taste. 4 and 5 star hotels, hostels, Western and Asian Restaurants can be found throughout the city. Most of the fine dining and foreign food can be found around the Jinji lake district, or west of the lake, toward the city center.
Venice of the East
The city's location on the Yangtze river delta, as well as its intricate paths, arched bridges, waterways, and gardens have earned it the nicknames "the Venice of China," and "the Venice of the East."
Holidays and Festivals
Suzhou's geography and climate lend it well to flora, so there are a number of botanical festivals. Tiger Hill Art and Flower Festival, Azalea Tourism Festival, Changshu Shanghu Lake Peony Show, Biluochun Tea and Tourism Festival are all attractions for nature-oriented visitors.
There is also a gourmet food festival in Taicang, not to be missed by gourmands visiting from Shanghai.
How to Get There
Train
Suzhou has 4 train stations: Suzhou Railway Station, North Railway Station, Suzhou New District Railway Station, and Industrial Park Station. Bullet trains from major cities all over China pass through Suzhou. From Hongqiao Passenger Terminal (connected to Hongqiao Airport) in Shanghai, visitors can take the 30 minute bullet train to Suzhou.
Bus
Suzhou has a North, South, and West station that service long-distance buses to nearby provinces.
Pudong Airport in Shanghai also has buses that leave every 30 minutes, starting at 10:00 and ending at 20:00 each day. Fare is about CNY 90, and it takes about 3 hours.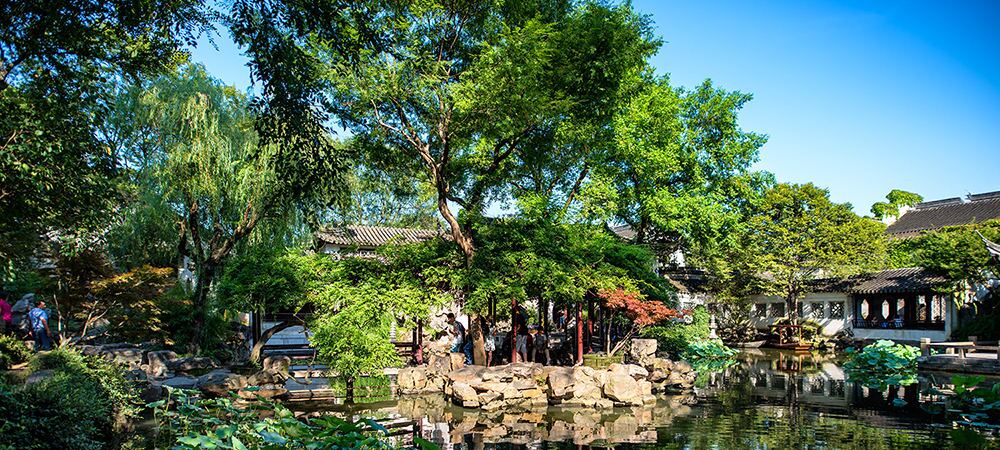 Liu Garden Suzhou
6. Zhujiajiao Water Town
With a history of 1,700 years, Zhujiajiao is the best-preserved among the four ancient towns near Shanghai. Suzhou may claim to be China's Venice, but Zhujiajiao is called Shanghai's Venice.
Preserved ancient Structures
The town is famous for its historical bridges- dating back to the Qing and Ming Dynasties (1644-1911, and 1368-1644 respectively). The bridges show the advancement of medieval Chinese construction, typically made from stone and using arches for structural integrity.
The ancient North Street exhibits Ming and Qing dynasty structures, with signature lions guarding the gateways and narrow walkways, evoking the time before motor vehicles.
Kezhi Gardens, on Xijin street has an ancient traditional Chinese garden. Within the gardens is the tallest structure in the ancient town: Moon View Pavilion.
How to Get There
Metro:
Take line 17 to Zhujiajiao metro station (朱家角), and walk north for about 1 kilometer (around 15 minutes).
Bus:
The Huzhu Express and Huzhu Special line will go to Zhujiajiao station. From there, it's about a 1 kilometer walk west.
Huzhu Special Line can be taken from Hongqiao Airport, where Gaohong and Shenkung Roads meet. Huzhu Express Line can be taken by going to Dashijie Metro Station (大世界; on line 8), and then heading to the junction of Pu'an Rd and Yan'an Rd.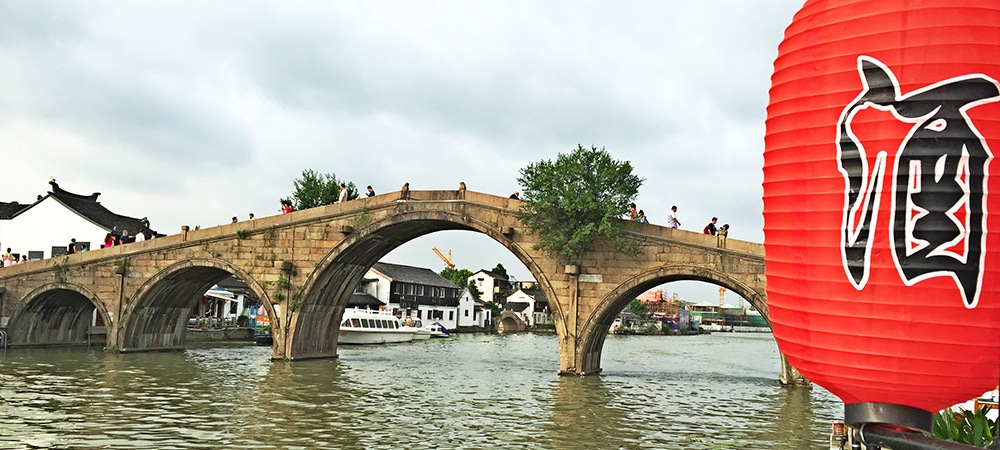 Fangsheng Bridge, Zhujiajiao
This Disney park resort is the first in Mainland China, and the second in Greater China (the first being in Hong Kong).
Disneyland park is a typical Disney entertainment district- with rides, food, and people dressed as characters from popular Disney movies.
There are also 2 themed hotels, a lake, and transportation hubs.
Travelers who want a bit of Americana in China have found the right place.
Located in Pudong District, visitors can take metro line 11 right to Disney Resort Station (迪士尼).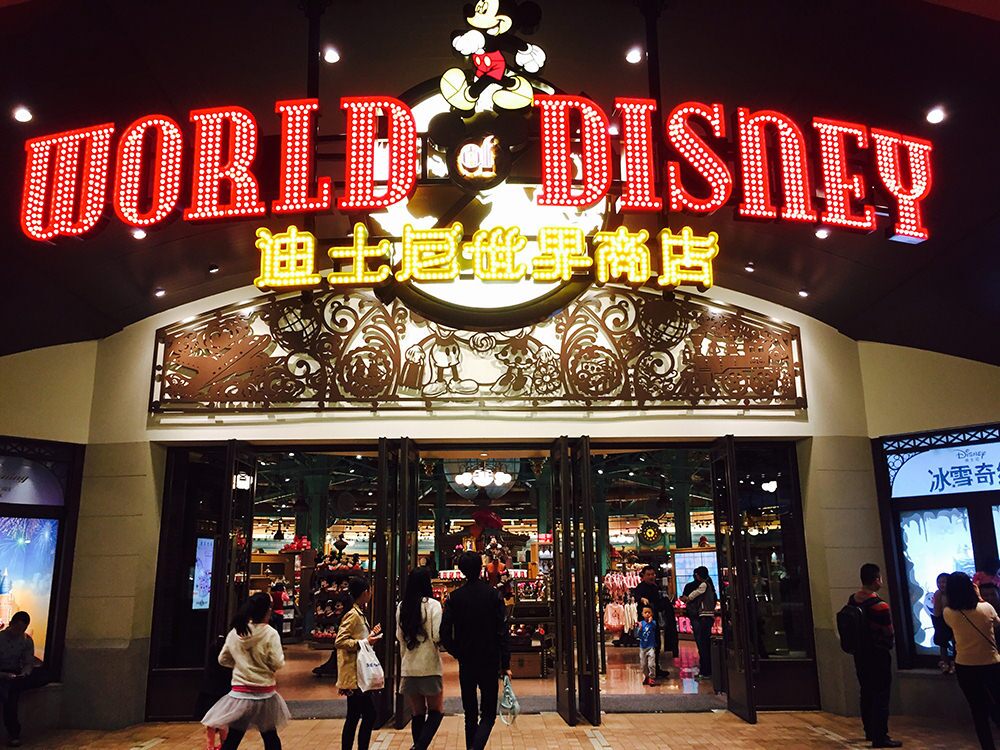 Disneyland Resort Shanghai
What separates Xitang Water Town from the other Qing and Ming Dynasty villages nearby Shanghai is its unique walkways. The walkways were once all roofed-roads. Nowadays, they have cafes, restaurants, and places for tourists to relax and watch the boats go by on the waterways.
Xitang was one of the cradles of early Zhejiang and Jiangsu (the province Shanghai is in, and the neighboring province, respectively) culture , and has over 1000 years of history. Walking the town, visitors will find shops, houses and gardens dating back to the Ming dynasty. There are also over 100 ancient bridges and over 120 ancient lakes for the history-minded tourist to visit.
Xitang has numerous hostels, and high-end hotels, accommodating any budget of traveler.
How to Get There
Train:
The Bullet Train from Shanghai Hongqiao to Jiashan South takes 30 minutes, and costs approx. CNY 30.
The standard train from Shanghai South Railway Station to Jiashan South only costs about CNY 13, but takes 40-50 minutes.
From Jiashan South Railway Station, it takes about 40 minutes by taxi and 1 hour by bus to get to Xitang. Buses visitors can take from Jiashan are numbers: K215, K165, K702, K216, K210, K218, and 152.
Bus:
From Shanghai South Bus Terminal, numerous buses leave direct to Xitang, starting at 08:45 and the last bus leaving at 18:19 pm. The trip takes 2 hours, and costs about CNY 36.
From Shanghai Bus Terminal 4 direct buses leave to Xitang. The earliest at 09:40 am and the last at 18:30. The trip costs CNY 37 and takes 2 hours.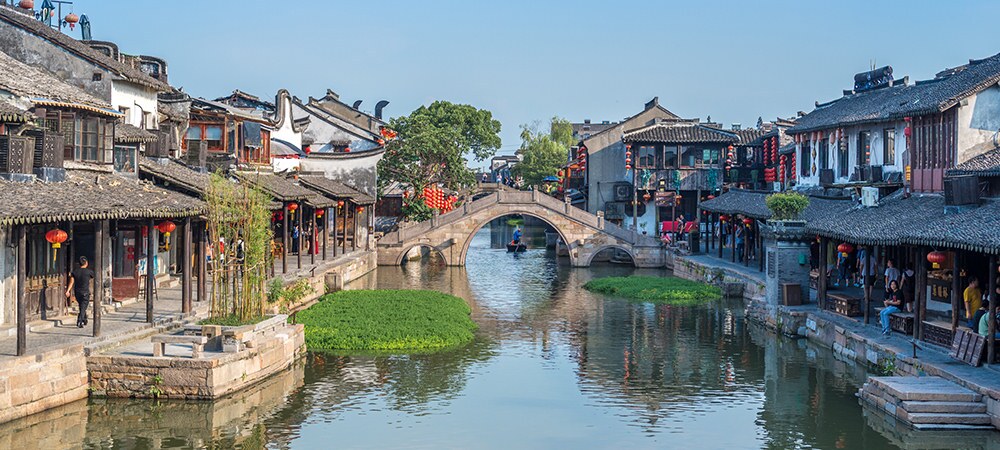 Xitang Water Town
This quaint canal city provides a nice contrast to the development and wealth of modern Shanghai. This swampy area was once considered the southwest gate to Shanghai, but is now favored by artists who come to paint its scenic beauty and the old farmers who still live there.
Old temples still stand residences still stand here, and shops and restaurants now line the canals. At night, the canal glows- lined with red lanterns.
Fengjing is a pleasant visit for tourists looking to take a relaxing boat ride, or just get away from the big city.
How to Get There
Metro
Take metro line 1 to Jinjiang Park Station (锦江乐园站). From nearby West Meilong Bus Station (西梅陇汽车站) one can take the Feng Mei Xian Line (枫梅线) to arrive in Fengjing in about 45 minutes.
Bus
From Shanghai Tour Bus Center Hongkou Station regular buses leave directly to Fengjing every day.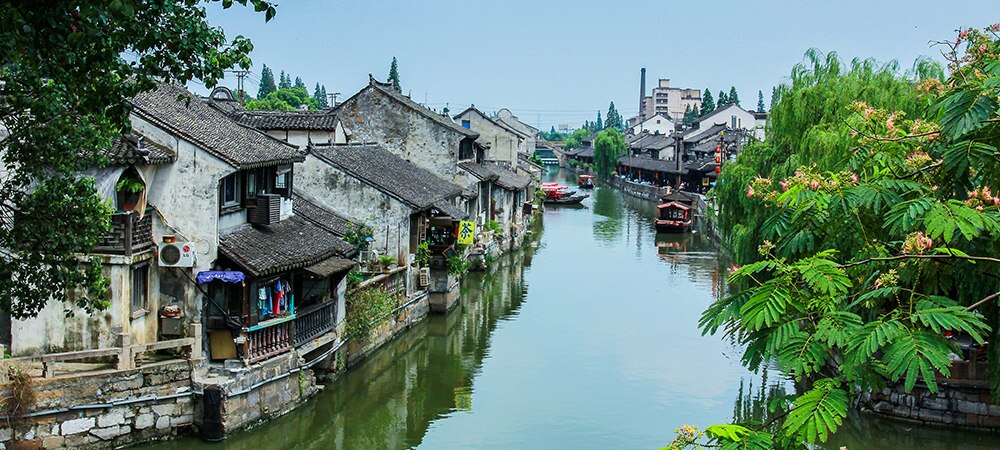 Fengjing Water Town
Take metro line 10 to Yuyuan Garden Metro Station (豫园).
City God Temple
The City God Temple or Temple of the City Gods (上海城隍庙) is a traditional temple in old Shanghai. It was originally built when Shanghai was raised to municipal status. The Temple exists to venerate 3 figures, honored as city gods.
Many ancient and medieval cities in China included temples dedicated to 1 or more immortal protectors/spirits/gods of the city. This temple was converted to the Shanghai City God Temple in 1403. The commercial area around the city is Yu Garden, or Yuyuan.
Yu Garden
Also known as Yuyuan (豫园), Yu Garden is a massive traditional Chinese garden in the old city of Shanghai.
The garden itself is an historic site, replete with classical Chinese architecture, numerous pavilions, streams, bridges, manicured trees and shrubs, and a massive 5-ton boulder called: "The Exquisite Jade Rock."
Yu Garden has been renovated and rebuilt many times since it was first constructed in 1559, so the various buildings and constructions are windows into different times over the last 460 years in China.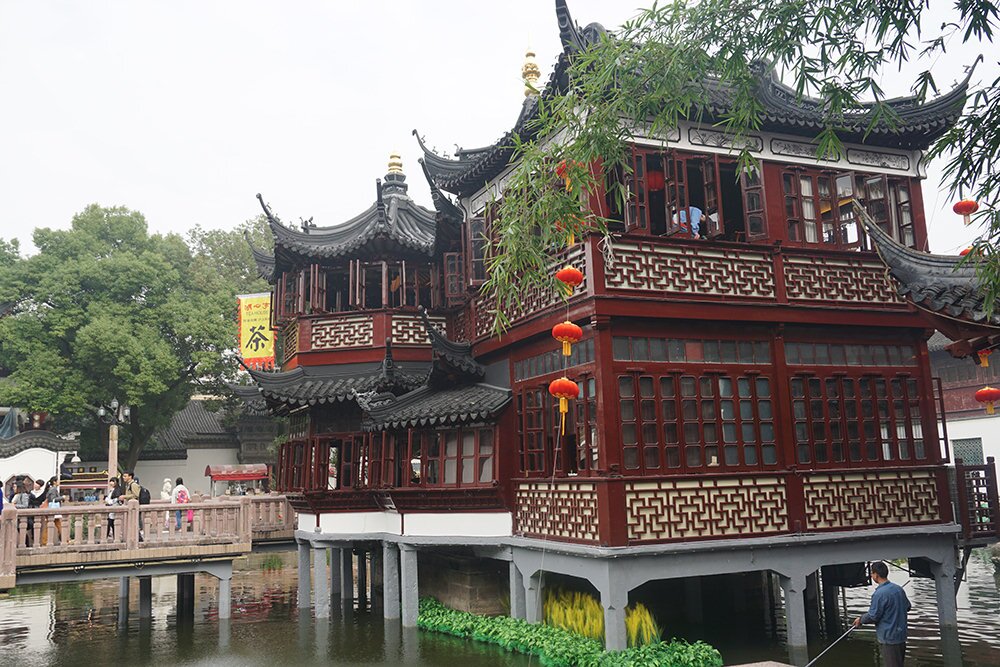 A Pavilion in Yuyuan Garden
11. 1933 Old Millfun `
Formerly the largest slaughterhouse in Shanghai, called either 1933, or Old Millfun, is a testament to the brutalist architecture of the 20th century. Located in the historic Hongkou District, and designed by British architects, 1933 looks more like it belongs in Gotham City and was designed by M.C. Escher. Nowadays, this architectural relic is the last of its kind in the world.
Visitors presently can find aspiring arts centers, fancy cuisine, and high-end businesses here.
How to Get There:
Take metro line 4 or line 10 to Hailun Road Metro (海伦路).
Walk east on Hailun road until crossing the river, then go right (south) on Laoning Road.
The 1933 will be on the left, right before Liyang Road.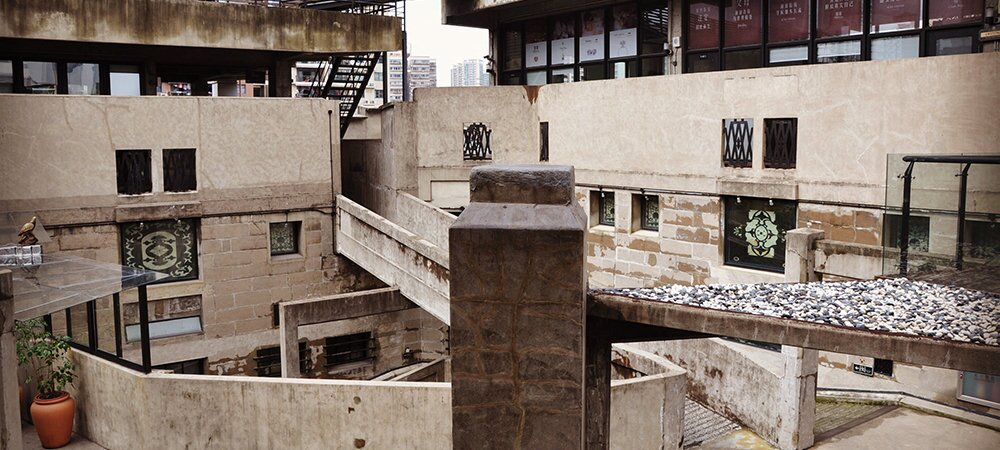 1933 Old Millfun
12. Shanghai Museum
Situated on the People's Square in Huangpu, Shanghai Museum (Shanghai Bowuguan, 上海博物馆), houses 4 floors of ancient Chinese art.
The museum's beginnings were humble, starting in the Former Shanghai Racecourse Clubhouse. The first works in the museum were accidental finds and private property confiscations made by the People's Liberation Army from their conquest of Shanghai, and artifacts confiscated by customs services.
Now, everything from sculpture, painting, and the costumes and art of ethnic minorities can be found here. The Shanghai Museum has been enriched by donors, government purchases, and archaeological excavations.
How to Get There:
The Shanghai Museum is in the south part of the People's Square, so visitors can head to the People's Square Metro Station (人民广场) on line 1, 2, and 8.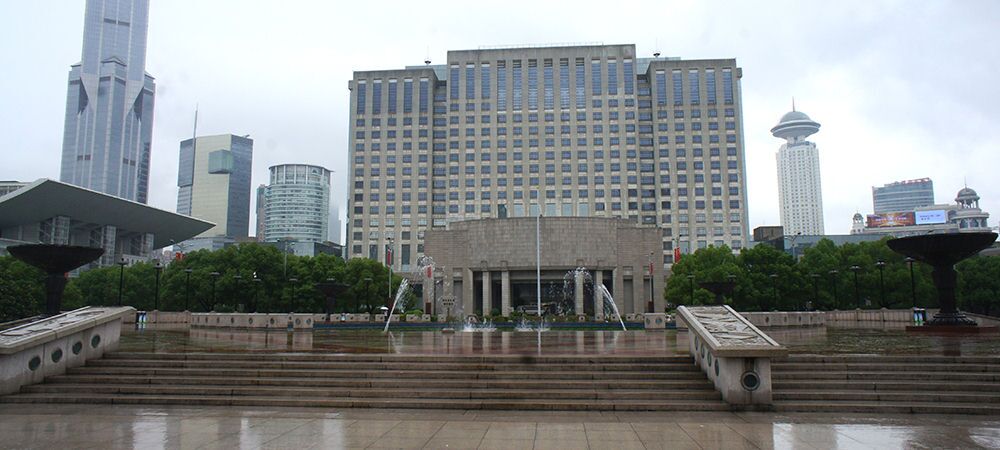 Shanghai Museum
13. Madame Tussaud's
Exactly what one would expect it to be, Madame Tussaud's is the famous wax sculpture museum.
Number 6 in the world, Madame Tussaud's Shanghai is the 6th Tussaud's was museum in the world, and [claims to be] the most advanced.
Visitors can see Chinese and Western influential figures, from celebrities to athletes to politicians.
How to Get There:
Go to the People's Square Metro Station ( 人民广场) on line 1, 2, and 8. It's right at the metro station, on the northwest corner of the intersection of Nanjing W Rd. and Xizang Middle Rd.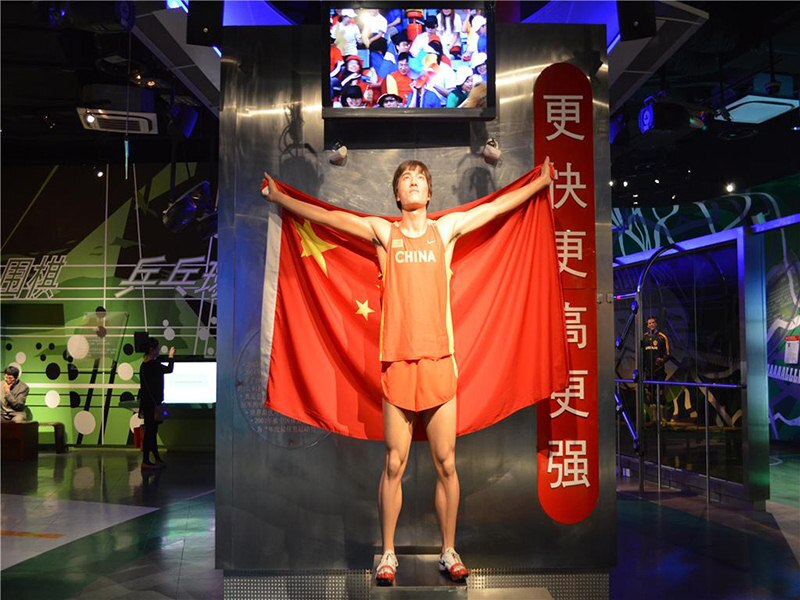 wax statue of Liu Xiang, an Olympic Games champion in the Madame Tussaud's
14. China Art Museum
Also called the China Art Palace, or the Shanghai Art Museum, this museum of modern Chinese art is located in Pudong area in Shanghai.
Famous for it's inverted pyramid and futuristic décor, the China Art Museum is one of the largest museums in Asia and holds over 14,000 pieces of [mostly Chinese] art.
The museum permanently hosts an exhibition with works by some of China's most famous modern artists. Also, many specially-themed exhibitions are displayed, including Taiwanese, Shanghainese, and French works.
How to Get There
Take metro Line 8 to the China Art Museum Metro Station (中华艺术宫).
Visitors can or take metro line 7 to Yaohua Road Station (耀华路), and then walk north on Shangnan Road about 800 meters.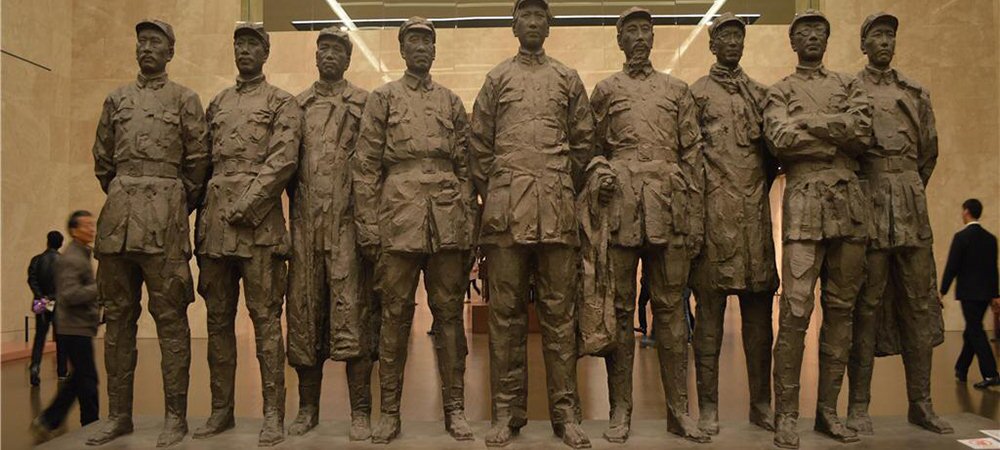 Statue of China Liberation Army in the Chinese Art Museum
15. Nanjing Road Pedestrian Street
For those looking for window shopping, eclectic figures, and a nice walk, look no further.
Nanjing Road is considered China's most famous shopping street. Starting at the Bund and ending at Jing'an Temple, running east to west, this street covers 5½ kilometers and brings in fashionistas from all over the world.
Large shopping malls have given way to high-end specialty shops and international hotels as the city has changed and this famous street with it.
Visitors not interested in fashion can try centuries-old traditional food like smoked fish, moon cakes, wine-cured crabs, wontons, and mud snails.
Finally, the night-time view of this area is spectacular, the lights from street-level are marvelous, but the real beauty is up above. On the roofs of fancy hotels and businesses, there are open-air bars and restaurants where visitors can soak up the city skyline, watching the sun go down and the lights turn on.
How to Get There
Located as one might imagine, on Nanjing East Road, visitors can take line 1, 2, or 8 to the People's Square Metro Station ( 人民广场), and then walk east along Nanjing Road. In just a few minutes, they will find themselves in the heart of China's premier shopping road.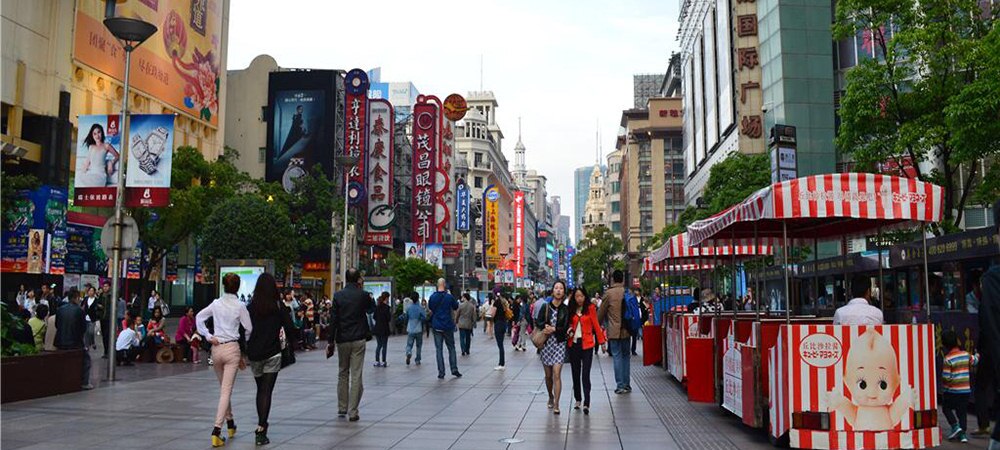 Nanjing Road