Please Note: If you plan to travel around Hangzhou during the G20 Summit (September 4th and 5th 2016), please at least arrive at the airport 3 hours in advance to avoid inconvenience
Located the central eastern coast of China, Hangzhou is the capital city of Zhejiang province. It is among the 7 most ancient cities in the country and continues to pride itself on a compliment that never expires: when the great Italian explorer Marco Polo visited in the 13th century, he declared Hangzhou the "most beautiful and elegant city in the world."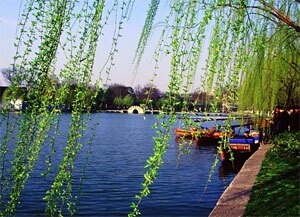 The natural beauty of Hangzhou is unmatched even within China, making it one of the most popular destinations for domestic and international travelers both. The West Lake and the cultural relics that populate the area such as reflecting pools, decadent temples, and classical Chinese gardens make it the star highlight of Hangzhou.
Dating back more than 2,200 years, the city is almost as old as human civilization itself. It was the capital of the Wu and Yue states in the 10th century for 5 dynasties. It wasn't until the Tang Dynasty that Hangzhou really flourished, coming to a peak in the Song Dynasty when it became the capital of a united China. Throughout the more recent Ming and Qing Dynasties, the city experienced rapid commercial growth and expansion.
As a tourism site, Hangzhou is most beloved for the beauties resulting from the immense West Lake. There are also numerous historical sites nearby, accompanied by the influence of silk and tea culture. Altogether, Hangzhou and the West Lake offer visitors a very complete natural and historical experience in China.
Weather
The weather in Hangzhou is typically warm or mild throughout the year. There is much sunshine and also rain. 4 seasons are enjoyed here, as well as 2 rainy seasons: one in late June until early July, and the other in August and September. Summers are hot and humid while autumns are cool and clear and is considered to be the best time to visit Hangzhou.
Getting to Hangzhou
Flight
As most major cities in China are, Hangzhou is well serviced and accessed in terms of transportation. It is just a short flight from Shanghai and also has daily flights between most major cities in the country such as Hong Kong and Beijing and even Singapore. Xiaoshan International Airport is Hangzhou's main airport, about 27 kilometers from the center of the city.
Train
High speed trains are among the best ways to between Hangzhou and Shanghai, Beijing, Chengdu, and beyond. Connections in these larger cities may be necessary. The most frequent are between Hangzhou and Shanghai; take the CRH train (train numbers starting with G) about 50 minutes.
From Suzhou, the train journey is about 1.5 hours on the high speed G / bullet train. There are 16 trains daily between the 2-1.5 cities with some arriving into Hangzhou Railway Station and the rest into Hangzhou South Railway Station.
From Shanghai, trains depart from Shanghai Hongqiao Station and Shanghai South Station. The journey to Hangzhou is about 1 hour.
From Nanjing, take a train from Nanjing South Station or simply Nanjing Station to Hangzhou or Hangzhou South Station. Depending on the category of train, the journey can be about 2.5-3 hours up to 6-7 hours.
Bus
To travel outside of Hangzhou by bus, access one of the 4 main terminals: North, East (also known as Jiubao on Shengjia Road), West, and South. There you will find vehicles to take you to almost anywhere you wish in China! Those going to Nanjing and Shanghai are most plentiful. You can also take a bus to both Shanghai Pudong International Airport and Xiaoshan International.
From Shanghai, buses depart from the north bus station (Hengfen Lu), the PuDong bus station (Bailianjing, PuDong Nan Lu), and from Xujiahui Bus Station. Most arrive at Hangzhou East bus station and the journey is about 2 1/2 hours.
From Huangshan, it is about 3 hours by bus to Hangzhou West Bus Station.
Local Transportation
Bus
Within the city, buses are your best bet. Public transportation is convenient and frequent. The bus network is extensive and well scheduled, with routes reaching throughout all corners of the city. All stops are well marked and fares are cheap. Special lines running to neighboring rural areas are priced depending on the bus condition and distance. There are various bus lines to take in the city:
Taxi
Travel by taxi is easily managed although more costly than getting around by bus. Look for green colored cabs with the word "Taxi". Meters are required by law. As well, few drivers speak a language besides Chinese so it is best to have your destination written in Chinese or present a map to get to where you need to go.
Subway
There is a limited subway system that is scheduled for expansion in the future.
Boat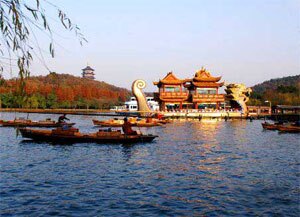 A West Lake cruise is one of the most popular activities in Hangzhou. Also, the city's waterfront is dotted with countless waterbuses and ferries. Take a ferry down the Grand Canal to admire Canal Culture Square and Xiaohe Street for a glimpse into ancient China.
To get to the islands on West Lake, you can choose the touristier Dragon or smaller pleasure boats (¥45 and ¥35). There are also medium-sized power boats (¥25), or for ¥160 you can hire a driver to paddle you around for about an hour. The boats are available in Hubin #X (1, 3, 6) parks and other obviously marked areas all over the lake.
Bike
For a large city, Hangzhou is surprisingly friendly towards bicyclers. There is a well maintained system for bicyclers that allow visitors and citizens to get around with ease. Ride around the West Lake for some calming views. There are also various stations where you can rent a city bike. Each station will be able to assist you with a map with suggested paths, nearby stations, and top sights to access by bike. Bring a photo ID such as a passport to use this service. They are free for the first hour with a small fee applied to subsequent time segments.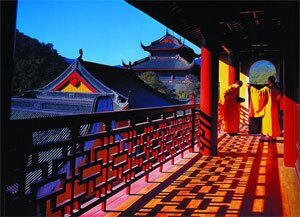 As one of the oldest cities in China, Hangzhou is the ideal place to experience history, culture, and the wonders of nature all in one place. As we've mentioned by now, one of the main reasons to visit Hangzhou is to admire the legendary West Lake. It has been a symbol of the city for centuries and continues to enchant visitors upon each visit, a destination of incredible natural and cultural value.
Lingyin Temple, a resplendent Buddhist temple, is a great place to soak in some history and culture. The Tomb of General Yuefei, Six Harmonies Pagoda, and Leifeng Pagoda are also among note-to-miss destinations Hangzhou has to offer.
Shopping
You might have come to Hangzhou for the views, but you just might stay for the shopping opportunities! The local markets are lively places to feel and taste the local flavor (figuratively and literally!). Hangzhou China Silk Town on Tiyuchang Road has hundreds of stalls selling varieties of products made from one of the country's most famous exports: silk. From ties to pajamas to handcrafts to fine decorative tapestries, there is something for everyone in the silk market.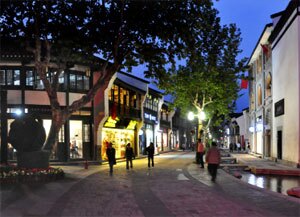 Another popular place is the night market near Wushan. It is most exciting in the nighttime with hundreds of shops and stalls offering everything you can imagine: Chairman Mao memorabilia, jewelry, toys, artisanal goods, home products, clothes, and much more. Bargaining is part of the culture in Hangzhou's markets so don't be afraid to put your negotiating strategies to use!
Qinghefang Old Street is one more traditional shopping area where you can find typical goods in the style of ancient China. Here you can find some beautiful souvenirs to take home as well as delicious snacks and delicacies. Enjoy a drink at one of the many teahouses, and be sure to admire the talents of those working in the bonsai shops, artist studios, and caricature stalls.
Of course, in quickly commercializing China, the city has a plethora of shopping malls, clothing stores, and boutiques of all levels. A contemporary shopping center called MIXC in the Central Business District offers designer brands and imported foods, IMAX theaters, and an indoor ice-skating rink.
Accomodations
As a major city, Hangzhou has accommodations that run the entire gamut of categories. If you are on a budget, hostels and youth houses offer clean and affordable alternatives to larger hotels. There are also mid-level hotels that offer great service and quality at a value rate.
If you like to travel in luxury, then you will have a large range of 5-star hotels and resorts to choose from. The Four Seasons West Lake is a classic choice right next to Hangzhou's most popular site and is just minutes from the most exciting parts of the city.
Budget accommodations we recommend include West Lake Youth House and Hangzhou International Youth Hostel. For economic locations, we recommend Shenanbei Boutique Hotel, Hangzhou Overseas Chinese Hotel, and SSAW Hotel Hubin. Luxury options include New Century Grand Hotel, Lakeview Hotel, and Victoria Regal Hotel Zhejiang.
If nothing else, the Chinese love to eat and Hangzhou is one of the premier places to do so in the country. The local tendencies lean more on pork and seafood unlike other regions in China. Street foods and snacks offer a unique alternative to dining in a restaurant, where you can observe the local culture while enjoying some fine food. If you find that you do not particularly care for Hangzhou food, do not worry, there are countless eateries where you can find food from other areas of China and international cuisines as well. International chains such as McDonald's, Pizza Hut, and KFC are readily found in most districts. See More >>
Here is an ideal itinerary for 3 days in the city if that is all you have! Please don't hesitate to contact us if our pre-designed tours do not meet your needs.
Day 1: Arrive in Hangzhou, visit Six Harmonies Pagoda.
Day 2: Visit West Lake, the Museum of Traditional Chinese Medicine, and Lingyin Temple.
Day 3: Leisure morning, depart Hangzhou in the afternoon or evening.