Best of Shanghai
More about Shanghai
Shanghai Travel Services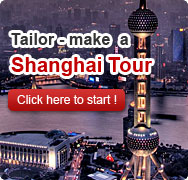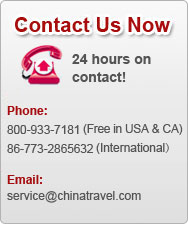 Shanghai Travel Guide
Shanghai, China's biggest and most prosperous city, oozes an atmosphere of vitality, and a dynamic which can rival New York in the United States and Paris of France in terms of modernity.
Situated on the estuary of Yangtze River, Shanghai is one of China's greatest cultural centers, and has a long history as a trading port and gateway for foreigners entering China. This municipality, under the direct jurisdiction of the Central Government, is the largest economic and trade center in China. See more about Shanghai Facts.
Lastest News: From Jan. 1, 2013, transit passengers of 45 countries and regions holding third country visas and plane tickets entering Shanghai through Hongqiao and Pudong airports will be granted a 72-hour visa-free stay in Shanghai. Would like to benefit from the new 72-hour visa-free period? Check out our 72 Hours Shanghai Visa-Free Tours now.

As the most metropolitan city in china, shanghai is very accessible. shanghai can be reachable by air, by land and by water.

Shanghai is china's biggest port city. As far as food and drink is concerned, several big culinary blocs poured into shanghai one after another. if you want to enjoy delicacies, please come to shanghai. restaurants featuring the various kinds of dishes, like Beijing food, Yangzhou food, Sichuan food, Cantonese food, Suzhou food, Hangzhou food, Wuxi food, Ningbo food and shanghai's local dishes have emerged in shanghai.

Shanghai has been famed as "the Shopping Paradise" and "the Oriental Paris' in history. Visitors come to Shanghai with a purpose of appreciating the beautiful urban scenery, as well as shopping in its various kinds of shops and stores. Nanjing Road, China's No.1 Commercial Street is a must for all visitors; Huaihai Road, an elegant and cultural commercial street, attracts thousands of young people who search for the latest fashion.

Shanghai has been called the Paris of the East, now they're saying it's China's New York. But it should be unique. Shanghai is one of the world's greatest cities with an entertainment scene to match. Stylish restaurants, quality cuisine and a nightlife that's full of surprises.

Although Shanghai is a modern and developed city, many people of Shanghai is still living their traditional way of life, thus many traditional customs are preserved and last to show the fascination of Shanghai.

Shanghai has hosted various kinds of professional expositions of high quality and large scale, which has made Shanghai one of the biggest exhibition centers in china. Many influential foreign companies have set up their branches in shanghai, thus expositions in shanghai arouse more people's attention around the world.