Local Snacks
Crab-Yellow Pastries
These pastries are round, about the size of a fisted hand, flaky, and topped with a generous layer of sesame seeds for both the eyes and the nose. Their name is because their warm golden color reminds of the yellow of a crab shell. Crab-Yellow Pastries are rich, crispy, and aromatic, and inside is one of a variety of stuffings that typically include green onions, pork, crab meat, shrimp, sugar, mashed beans, and jujube paste.
Mashed Date Pastries
Chinese dates, also known as jujubes, are common ingredients in national sweets and dishes. The Mashed Date Pastries founds in Shanghai consist of a fried pastry cover over a serving of mashed dates within. The golden color is inviting and the texture is pleasant; these sweets are particularly popular in Hong Kong, Macau, and Japan.
Fried Mantou (a kind of fried paste with stuffing inside)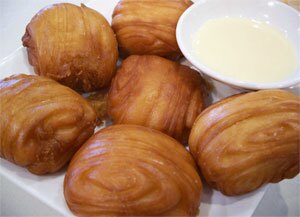 In Shanghai, baozi (bread) is referred to as mantou. So, Fried Mantou means fried bread. These simple but delicious buns are made with semi-fermented dough that is fried on a saucepan. Fried Mantou must simply be tasted when hot and fresh to experience them at their prime. The exterior is warm, golden, and crispy while the inside is white and soft. Together, the textures make for a truly soothing gastronomical taste! The insides can also be found filled with sesame or scallions for an additional twist in flavor.
Cold Noodle With Sauce
Summers in Shanghai are hot and humid which is why cold noodles are a popular favorite. It is in fact very easy to make cold noodles: boil the noodles and just let them cool down! Afterwards, add a dollop of sauce to make the dish fit your mood of the day. Typical sauces include meat sauces, sesame, and other savory types. On the side or on top, it is common to enjoy Cold Noodles with Sauce with meat or seafood, chopped vegetables, and tofu.
Yangchun Noodle (plain noodle)
These plain style noodles go smoothly into the mouth. Usually, it is enjoyed with fresh and tasty dried shrimps, scented scallions, and sesame oil in a clear broth at its most basic. It can also be ordered with a thick, savory, meat-based sauce on top.
Yangchun Noodles have a very old and beloved history for the Chinese. Every October in the lunar calendar signals a new Spring; thus, the number 10 refers to Spring. Also, a long time ago, a bowl of these noodles was just 10 wen (the monetary unit in ancient times). So, Yangchun Noodles, with "-chun" meaning Spring in Chinese and the longevity of noodles themselves being a good symbol for life, has auspicious significance.
Sticky Rice Balls with Fruit Stuffing
Sticky rice foods and snacks, due to their delightful texture, are very popular throughout China. These Sticky Rice Balls with Fruit Stuffing are made with sweet fermented rice. The outsides of the glutinous rice balls can be smooth or accented with things such as sesame or coconut shavings.
Leisha Dumpling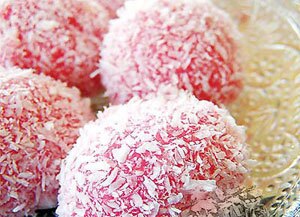 Leisha Dumplings are among the most loved desserts in Shanghai and China. These sticky glutinous rice dumplings are served often as trios and are filled with adzuki bean paste, yielding a perfectly sweet combination. Sometimes they can be filled with meat, sesame, or paste of other types of beans. Outside, a thin but rich layer of adzuki bean powder completes the overall flavor.
The name of Leisha Dumplings is said to have come from the name of an old lady named Lei who made her living making these treats on the streets of Shanghai at the end of the Qing Dynasty. It was her idea to cover the sticky balls in adzuki bean powder so they did not stick to each other as she transported them. Today, these dumplings are incredibly popular with all ages!
Sponge Cakes Made with Lard and Fruits
Like a mix of some of the aforementioned treats, Sponge Cakes Made with Lard and Fruits is crafted by steaming a mixed powder of sticky rice and standard rice with adzuki beans and fruits. It is mostly enjoyed around the New Year celebrations. This cake is soft and sweet with a pleasant taste for everybody.
Fried Chop Rice Cakes
These delicious cakes are made with a piece of rice cake that is fried and cooked. Two restaurants in Shanghai are particularly known for their versions since around the 1930's even though their methods vary: Shuguang restaurant and Xian Laide Cake Store. Do not forget to try these on a trip to Shanghai!
Fresh Meat Buns
A standard bread bun is filled with diced chicken or other meat which has been bathed in a delicious soup beforehand. The entire bun is shaped like an ear which has earned it the name "mao'er" meaning the ears of a cat. To try a particularly delicious version, visit Qiao Jiashan Restaurant in Shanghai where the buns are handmade and filled with meat or bean paste.
Escargots Pickled with Distillers' Grains or Wine
Escargots, or snails, are boiled with distillers' grains or wine. Fresh snails are essential for this dish, along with just the precise amount and type of seasoning.
Gaoqiao Cakes
The main components for this kind of Chinese shortcake are wheat flour, lard, sugar, red beans, and osmanthus. It has a very buttery flavor and crispy texture; some say there must be 16 layers for a piece to fully qualify as a Gaoqiao Cake! A good place to try these would be from Gaoqiao Bakery at its retail department at the corner of Huaihai Zhong Road and Ruijin Road in Shanghai.
Cream Spiced Beans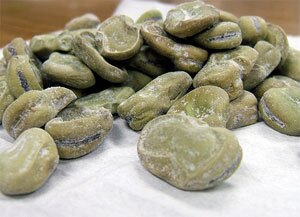 This interesting food is made by using local broad green beans mixed with ingredients such as fennel, cinnamon bark, salt, sugar, and of course, cream. The result is a slightly sweet and delicate flavor which stimulates the appetite.
City God Temple's Solidified Pear Syrup
There are 2 different types of Solidified Pear Syrup. The first is for a healing effect which is said to relieve coughing and asthma, for example, and also to stimulate the appetite. To make this, the pear syrup is boiled with medicinal herbs such as almond, root of the balloon flower, Tuckahoe, tuber pinellas, and more. The other type of Solidified Pear Syrup is for taste and enjoyment. This version is boiled with sugar, fine herbs, hawthorn, and cloves among other delights.
This food has a history of more than 1,300 years, but it has most popularly been sold within the last 100 years or so around the City God Temple, also known as Yuyuan Temple. Today, the best place in Shanghai to try Solidified Pear Syrup is at the Yuyuan Garden Commerce City right outside of the temple.
Wanshou Restaurant – for the wontons
This is a restaurant especially serving wontons, one of if not the most traditional snack in China. The eatery is small but always crowded with customers. The wontons, or filled dumplings, made here burst with meat and vegetables. Perhaps best of all, the food at this restaurant is very affordable at about 3.5 Yuan each wonton. Eat up!
See more of our best suggestions on where to get your sweet tooth satisfactions in Shanghai. More >>