Since the high-speed train widely went into service in 2011, the maglev train has been becoming less popular, because it feels not so fast than before any more. However, the Shanghai Maglev Museum is still worth to visit.
Opened in 2007, the Shanghai Maglev Museum is located in the Longyang Road Maglev Station. It is free to visit. Although a maglev train can take you from Pudong Airport to Longyang Road in only eight minutes, you need to spend almost one hour learning why a maglev train runs so fast. Fortunately, the exhibitions in the museum include photos, videos, models and real parts of a maglev train. After learning these exhibitions, even a ten-year-old child can understand maglev's elementary scientific principles.
There are five exhibition halls in the museum, which are Emerge of Maglev, Shanghai's Maglev Railway, Secret of Maglev, Advantage of Maglev and Future of Maglev. The administrators believe it is easier for common people to learn the maglev by dividing the museum into five parts according to time range. Especially for the youngsters, the Emerge of Maglev is almost all about stories. The youngsters will become more interested about the maglev after reading these stories. And then, they will learn some knowledge in other exhibition halls.
You are suggested to visit the museum when you get off from a maglev train, because normally you will be more interested in a new thing which you just experienced a few minutes ago.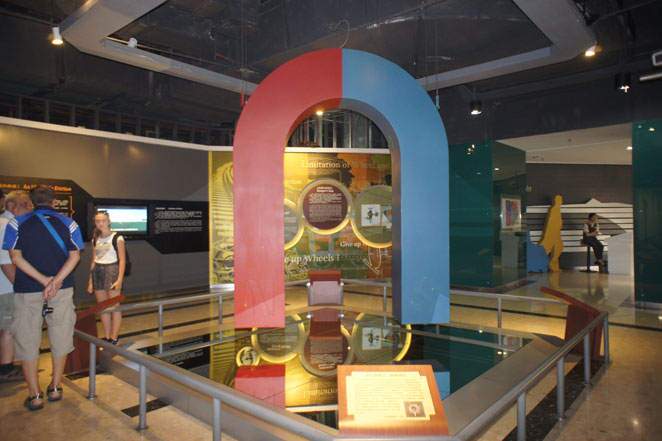 Shanghai Maglev Museum