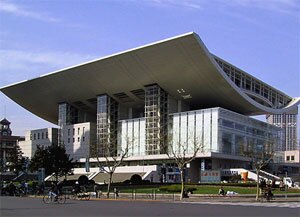 The Shanghai Grand Theatre, covering an area of 2.1 hectaresis, is situated at the intersection of Central Boulevard and Huangpi Road South, in the northern part of the People's Square in Huangpu District. The Grand Theatre, designed by French architect Jean-Marie Charpentier, has become an outstanding landmark of Shanghai with its distinctive architectural style and brilliant appearance. When night falls, the whole building looks resplendent, as the whitearchitectural shaped roofs with the light sensitive glass curtain walls reflect an extraordinary impression.
Shanghai Grand Theatre consists of two parts – east and west and occupies a total area of 62,803 m² with a height at 40 meters and 10 stories including 2 levels underground.
The lobby of the Shanghai Grand Theater is approximately 2,000 square meters. There is a large crystal chandelier hanging on the roof with six pans-piped-shaped lamps. The floor is made of Greek crystal white marble.
There are three main halls in the theater - Lyric Hall, Drama Hall and Studio Hall - with a total of 1,800 seats. In addition to the performance halls, the Shanghai Grand Theater also has a restaurant, VIP room, café, and a shopping center for audio/video with an area of 2500 square meters as well as underground parking.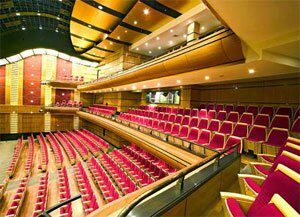 Since its opening, the Shanghai Grand Theater has established an excellent reputation both at home and abroad and has successfully staged a variety of large-scale performances and shows including opera, music drama, ballet, symphony, chamber music, and drama. Now it has become an important window of cultural exchange between China and the world and a bridge for artistic communication.
Address: No. 190, North Huangpi Rd., Huangpu District
Open Hours: 09:00-11:00; 13:00-16:00
Phone: 021-63728702
Transportation: Buses: No.18, 20, 37, 46, 49, 109, 112, 123; Metro: Line1, 2