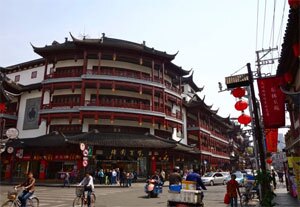 Originally named Fangbang Middle Road, Shanghai Old Street stretches 825 meters and is an ode to the city's past. There were once many typical banks, jewelry shops, restaurants, theaters, and other venues all along the way. Along the ends of the road, it connected Shanghai Chenghuang Temple and Yuyuan Garden. Today, you will still find many of these time-honored establishments in addition to new offerings.
Feature
Aside from the gorgeous geographical location and landscapes along the street, Shanghai Old Street continues to be a very strong economic center. Its architectural style and layout reminds of a typical street during the late Ming Dynasty to the early republic, with influences that can be seen from Western cultures that later arrived in China. The businesses all represent traditional trades and folk culture, making it a delight to enjoy and shop on this street.
Layout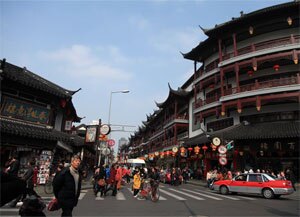 Guanyi Street divides Shanghai Old Street into eastern and western sections. On the eastern side, the shops and residences are characteristic of the late Qing Dynasty towards the 21st century and the end of the dynastic eras. The decorations are elaborates and remolding has maintained the integrity of the original buildings. Homes are outfitted with typical checked windows, wooden boards set the tone for shop fronts, and balustrades and swing doors complete the atmosphere. Roof with upturned eves and protruding corners add the final touches with laced drain pipes and horse-shape wall tops alluding to the old days. On the western side of Shanghai Old Street, you will see copies of Ming and Qing Dynasty architecture with more folk styling themes.
Some of the century-old businesses on this walkway include Tonghanchun, Laotongsheng, Wuliangcai, Qiutianbao, Old Shanghai Teahouse, Deshun Western food restaurant, Chuanfeng Deyi restaurant, Xishi soy bean curd store, Dingniangzi cloth store, Rongshun restaurant, and Boyintang. Newly founded establishments include Danfeng Teahouse, clinics of famous Chinese medical doctors, and more.
Shanghai Old Street, along with Star Street in the city's northern districts, combine to create a well rounded panorama and cultural view of trade and business in Shanghai as linked by time and commerce.
Travel Information