Xian is absolutely the most historical city in China. It was initially created as the capital of China over 2300 years ago. Compared with the Forbidden City, Great Wall and other royal relics in Beijing, the Terracotta Army and other legacy in Xian are even more historical. In a word, if you want to see a vivid resurrection of last 500 years' history, Beijing is a good choice; if you want to understand how China had been created and developed since prehistory, Xian is a perfect option.
From Shanghai to Xian, by Plane or Train?
Overnight Train is better. It may take you around 6 hours if to reach the city center of Xian from the city center of Shanghai if the time for both Shanghai and Xian airport transfers are count in. After arrival you may need several hours to rest, so you can't see many things on the first day. In contrast, you can spend around 10 hours sleeping on an overnight train and you have been fully recharged when you arrive at Xian. The first day will be colorful!
What to See in Xian?
Xian is an historical city abundant in ancient relics. There is a saying that "If you find a broken bowl in Xian, keep it! Because it might be a piece of priceless antique". So the following in the footsteps of history is the reason why hundreds of tourists go to Xian.
Terracotta Army
Although there are countless ancient relics buried in Xian and its surrounding area, only the Terracotta Army can be the reason why the tourism in Xian develops so fast. The Terracotta Army, a part of funeral objects of Qin Shihuang, was initially discovered in 1974. After three major excavations, over 40000 relics are available for tourists to admire. Around 10000 pieces of the relics are terracotta warriors. The types of the warriors include commanders, foot soldiers, kneeling archers and chariot drivers. Other relics include chariots, terracotta horses, weapons and vessels. The Qin Shihuang is considered to be one of the cruelest emperors in the history of China, however, it is an undeniable progress of human civilization that he used the Terracotta Army rather than living persons as funeral objects.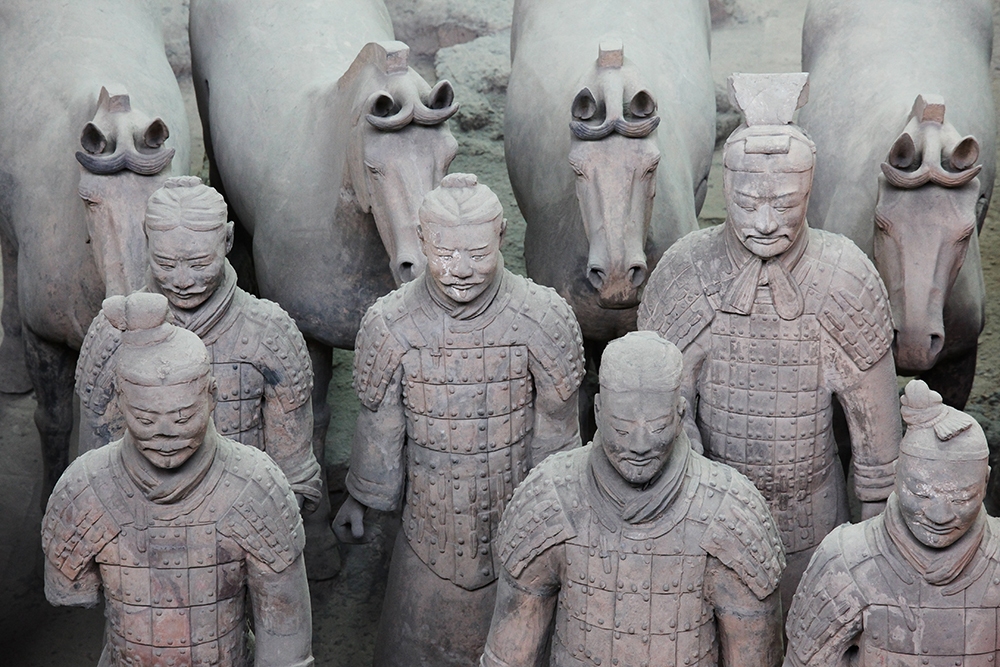 Terracotta Army Cavalry
Shaanxi History Museum
The Terracotta Amy is undoubtedly the most renowned ancient relic in Xian, but there are still thousands of other historical treasures worth to admire.
Covering an area of 11000 square meters (13155 square yards) and over 170 million pieces of ancient relics are stored in the Shaanxi History Museum. The oldest piece has a history of over one million years. The relics are divided into seven parts for exhibition according to chronological sequence. You are not only admiring ancient relics but also learning the history of China when visit the museum. Besides the major seven exhibition parts, there are also exhibition of fresco, treasure of the Tang dynasty (618 – 907 AD) and sculptures of horses.
City Wall
The 13.7-kilometer-long (8.5 miles) City Wall in Xian the longest and best-preserved ancient city wall in China. Although there are lots of sections of ancient city wall built in different dynasties in Xian, most sections have been destroyed during wars. The section we can visit nowadays was built in Ming dynasty (1368 – 1644 AD). Cycling on the city wall is one of the most popular activities in Xian. You can hire and return a bike at four gates (East, west, south and north gates) of the city wall. If you do not like cycling, battery car is another option. It takes around 50 minutes for a battery car sightseeing on the city wall.
Where and What to Eat in Xian
Almost all the delicious food can be found on the Muslim Quarter in Xian. Fried bun with meat, cold noodles and fried rice with Chinese sauerkraut are must-eats food in Xian. These foods all have a history of over 1000 years.
Fried Bun Stuffed with Meat – Easy to cook and easy to eat, the fried bun with meat is the most popular food in Xian. The meat stuffed in the bun is so tender and smooth that it is never sticky to your teeth.

Fried Bun Stuffed with Meat
Cold Noodles – The springy noodles are key ingredient of this street food. Besides, the sauce is also important. The cold noodles taste differently in different restaurants. It is impossible to judge who is the best and depends on your own concept of delicacy.
You May Not Know This…
The earliest foreign students in the history of China studied in Xian. Over 100000 foreign students were studying Xian during the Tang dynasty.
Explore the mysterious history of Xian by joining in our 4-Day Xian History Tour from Shanghai From 579!