Hundreds of Shanghai people have been used to or even bored with the skyscrapers in Shanghai, because these giants always remind them of their endless work. They need to relax and enjoy the nature somewhere else. Guilin is their top option.
Why People in Shanghai Like Guilin?
Mountain Views – The karst landscape in Guilin is totally different from Shanghai, where there is seldom a hill. People like to seek difference.
Countryside Life – Almost every people in Shanghai are being caught by fast-tempo work. They are continuously looking for method to relax. The peaceful like in the countryside in Yangshuo, a small county near Guilin, offers them a perfect option.
Minority Culture – From costumes to food, from language to daily work, the culture of minority people in Guilin is unique in all aspects.
What to See in Guilin?
In order to enjoy the mountain views, countryside life and minority culture, the Longji Terraced Field, Li River and Yangshuo are must-visits.
Longji Terraced Field
The Longji Terraced Field was initially cultivated 2300 years ago and it is still being ploughed today. Due to the under-developed transport capacity, the Zhuang and Yao People on the terraced field almost never got in touched with the outside world until 1970s, which makes their culture and life style remain intact. Even now, only very experienced drivers are allowed to drive bus or car to the terraced field. The altitude of the terraced field is around 1000 meters (3280 feet), so you have to be a little bit energetic to climb to the local people's houses to learn their culture and life. It is also recommended to spend one night on the terraced field to admire sunrise and sunset. The sanitary condition of the guesthouses on the terraced field is acceptable.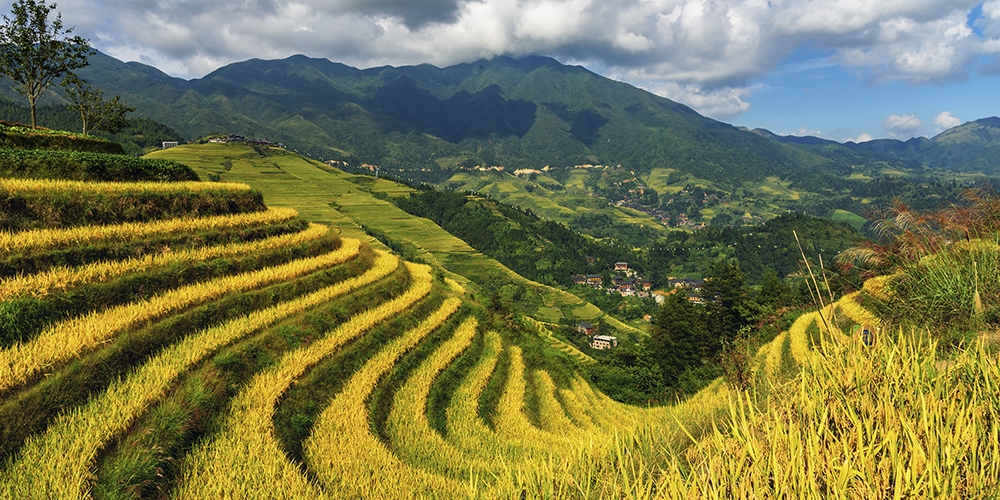 Longji Terraced Field in Summer
Li River
The Li River is the mother river for both Guilin people and Guilin's tourism, because it provides clean water for Guilin people and Guilin's tourism is developed based on it. Normally, tourists will take a Li River cruise from Guilin to Yangshuo. During the 4 hours cruise, you can admire the hills in unique shapes on the banks. The sky and trees on these hills are reflected on the mirror-like Li River, which will make feel like cruising in paintings. Lots of international celebrities also cruised on the Li River, such former US President Bill Clinton and Founder of Microsoft Bill Gates. You can search on Google to find more.
Cruise is not the only way to admire the Li River. Lots of passionate tourists choose to hike from the Nine Horses Fresco Hill to the Xingping Town of Yangshuo. You will not miss any highlights on Li River during Hiking. Furthermore, you can stay longer to enjoy the views at any place you like.
Yangshuo
Yangshuo is one the most well-known counties in China. Its countryside views, cultural streets and colorful nightlife attract thousands of tourists every year. Many of them like Yangshuo so much that they settled down in Yangshuo. The most popular activity in Yangshuo is cycling to the beautiful countryside around the Yangshuo County. There are lots of places where you can stop for a rest or taking a photo, so you will not become tired. There are also other activities in Yangshuo, such as rock climbing, bamboo raft cruise and hiking. No matter which activity you choose, you will fall in love with the fairyland on earth.
Guilin City Highlights
If you have free time in the city of Guilin, the Reed Flute Cave, where you can admire the karst view and the Elephant Trunk Hill, looks like an elephant drinking water on the Li River, are recommended. The former one can easily reached by bus or taxi, while the latter one is in the center of Guilin city, you can even go there on foot.
What to Eat in Guilin?
Fish Cooked with Beer – It is the most-ordered delicacy in Yangshuo. Fish is fried first and then boiled with the mixture of water and beer. Pepper, tomato and garlic are indispensable flavorings.
Rice Noodle – This is almost every Guilin people's breakfast. Spiced beef, beef soup and scallion are indispensable ingredients for Guilin rice noodle. Most Guiln people consider the rice noodle to be the only must-eat for tourists.