Beijing and Shanghai are two most modernized cities in China. Beijing is China's political center while Shanghai is the economic center. Both historical relics and modern skyscrapers can be found in these two cities. The most obvious difference is that most relics in Shanghai were made or built by rich merchants while most relics in Beijing were constructed by royalty. In order to pursue different experience, most Shanghai people will visit the royal relics, such as the Forbidden City, Temple of Heaven, the Great Wall and Summer Palace.
The Forbidden City
The magnificent Forbidden City was home and office to 24 emperors in Ming (1368-1644 AD) and Qing (1636-1912 AD) dynasties. It was listed as a World Cultural Heritage by the UNESCO in 1987. The majesty of stateliness of royalty is reflected on every house in the Forbidden City. This kind of majesty in can never be found in any place in Shanghai. Besides, an insightful tour guide will tell you some anecdotes and interesting knowledge about architecture during your tour.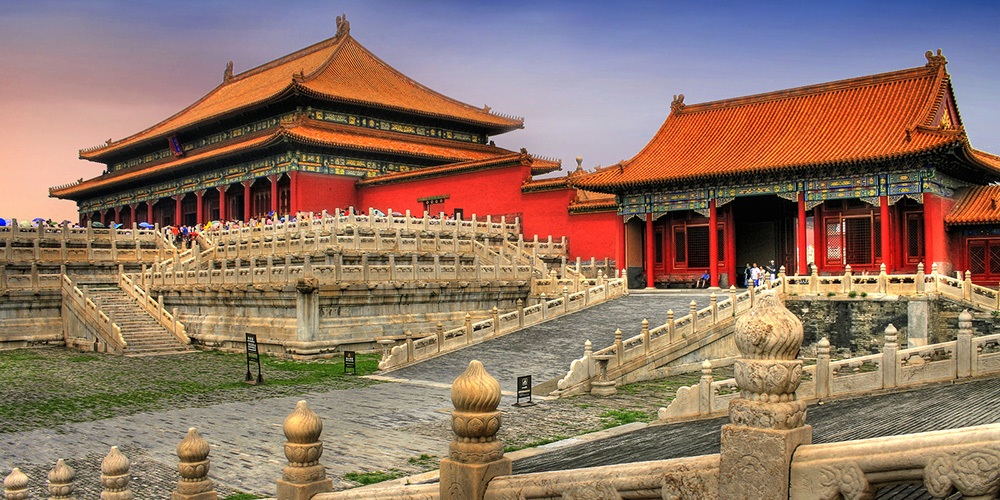 Forbidden City Beijing
Temple of Heaven
The Temple of Heaven was built for royal fete ceremonies, so the temples, roads and vessels look more mysterious and related to religion. Nowadays, the relics are preserved very well. Tourists can feel the atmosphere of ancient royal fete ceremonies when standing on the center of any vast ceremonial area. The function of the Temple of Heaven has been completely changed. It is now a place for morning exercise and leisure activities for common people. It is a great chance to learn Chinese people's daily life if you visit there in morning.
Mutianyu Great Wall
Although Badaling is the most popular Great Wall section in Beijing, we still recommend Mutianyu, because it is preserved very well and the view is good. Although the Mutianyu Great Wall is located on a mountain, you needn't to climb it due to the cable car. Most bricks of the Mutianyu Great Wall have a history of around 400 years. You can see some old Chinese characters on these bricks.
Summer Palace
The Summer Palace, initially built in 1750, was a royal resort. Although it was built according to the style of the ancient gardens in the South Yangtze River Area, you may never think so, because of its huge size. It is 3 times larger than the Yu Garden in Shanghai and the houses and pavilions in the Summer Palace are also much bigger than the ones in Yu Garden. Although the luxury gardens in Shanghai or Suzhou have made you amazed, you will still be shocked by the level of luxury of the Summer Palace.
Jingshan Park
Located on the center of the north to south axis line of Beijing, the Jinshan Park was the highest point of Beijing in ancient times. Standing on the Wanchun pavilion on the hill in the park, tourist can have a bird view of the Forbidden City. As you have already known, the Forbidden City was home to 24 emperors. It is a great feeling that all royal palaces are much lower than you. The entrance fee for the Jingshan Park is only two RMB.
Tsinghua University
Ranked as the No.1 university in China, the campus of Tsinghua University is second to none of other universities in China. The site of the Tsinghua University was a royal garden. Most houses in its campus are combinations of Chinese and Western styles. You are recommended to enter its campus from its west gate and visit the campus clockwise.
You May Be Also Interested…
Olympic Legacy – The Bird Nest and Water Cube were built to host the 2008 Beijing Olympic Games. They are adjacent to each other. If you want to learn more about the grandest sports event ever held in China, they are good choices. They look more beautiful when lit at night.
798 Art Area – It was a factory area before 2000, but now it is full of street paintings, sculptures and galleries. Every art work is free to admire. Most galleries are closed on Monday. If you become tired during your tour, the bars in the area offer you a place to recharge.
Hutong – Like the Longtang in Shanghai, the Hutong in Beijing is a historical residential area for local people. The most traditional and authentic culture can be learnt in Hutong. The South Gong and Drum Lane, Tobacco Pouch Italic Lane and Imperial College Lane are the top three Hutongs in Beijing.
What to Eat in Beijing
Delicacy from all over the world can be found in Beijing, but most tourists want to try local food only. No problem! Beijing was the home for over 24 emperors. In order to meet their requirements about food, hundreds of delicacies were created. Nowadays, common people can also taste them.
Beijing Roast Duck – It is absolutely the most popular food of Beijing. Both tourists and local people like it. Almost every head of state who has visited Beijing, has ever eaten Beijing Roast Duck. Our recommended restaurants are the Quanjude, located on Building 14, the Qianmen West Street and the Pianyifang, located on the third floor of the New World Department Store, No.3 to 5, Chongwenmenwai Street.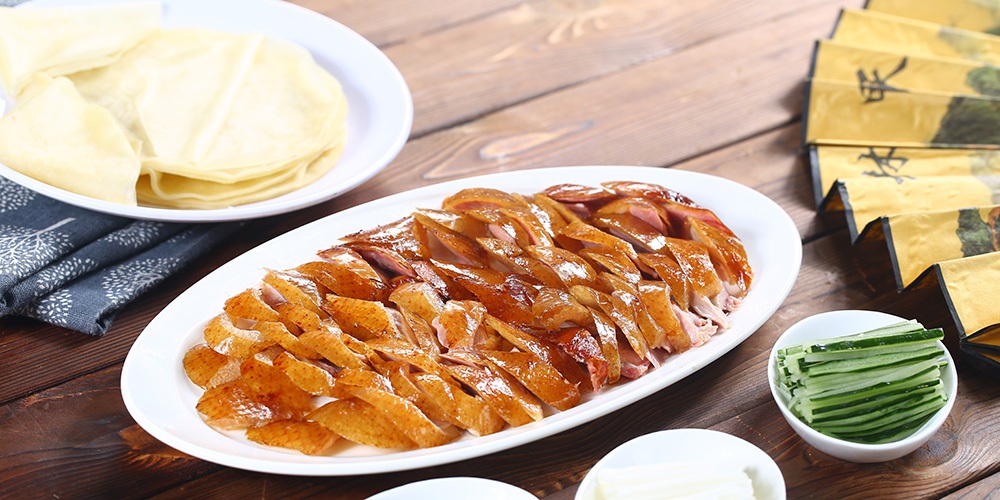 Beijing Roast Duck
Noodles with fried brown sauce – It is also called Zhajiang Noodles. It is a common food in Beijing. Almost every small restaurant provides Zhajiang Noodles. You can just walk around and may find excellent Zhajiang Noodles in a small lane.
Yoghourt in Proclaim Bottle – This kind of yoghourt can be found in the Hutongs in Beijing. If you plan to visit a Hutong, you can try to find this Yoghourt. It is also the memory of childhood for lots of local people. Please note that you have to drink it in the shop where you buy it, because the bottles will be recycled.